Peter Cordingley, the spokesman for the WHO's West Pacific region, said the victims make up the largest cluster of human bird-flu cases seen so far, suggesting that the disease may have passed from person to person.
"Until we find a common source of infection, then we have to treat this as potentially human-to-human transmission," he told reporters on May 24.
Cordingley said Indonesia and other countries need to step up their surveillance efforts in order to identify and respond to bird flu.
Most of the 124 people confirmed to have died from the deadly strain of bird flu -- H5N1 -- around the world, mostly in Asia, appear to have caught the disease from direct contact with sick poultry.
(AP, Reuters)
Affected Areas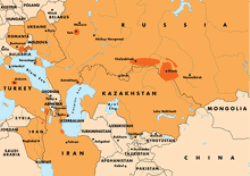 Click on the map for a closer view of the areas within RFE/RL's broadcast region where cases of diseased fowl have been confirmed. Last updated on February 20.


BIRD FLU, or avian influenza, continues to menace scattered areas from East Asia, where the disease first appeared, to Southeastern and Eastern Europe and beyond. Authorities around the world are bracing themselves -- and, more importantly, planning and taking measures to fight the disease wherever it appears.
Stories Of Particular Interest:
Bird-Flu Expert Discusses Issue Of Migratory Birds
Bird Flu: As European Worries Grow, Some See Benefits In Alarm