Veteran RFE/RL Broadcaster Azamat Altay Dies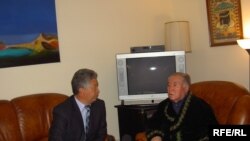 Azamat Altay (right) in his New York home in 2005 (RFE/RL) PRAGUE, May 24, 2006 (RFE/RL) -- A veteran of RFE/RL's Kyrgyz Service, Azamat Altay, has died in New York following a brief illness. He was 85 years old.
Altay took part in the first Radio Liberty (RL) program to be broadcast in the Kyrgyz language, on March 18, 1953. He served as director of the Kyrgyz Service from 1984 through 1988.
Altay was born Kudaibergen Kodjomberdiev in 1920. He was twice captured by the German army during World War II, but eventually managed to escape, joining resistance fighters in France. In 1945, he fled from Soviet-occupied Germany to the French zone.
He joined RL in Munich, then emigrated to the United States in 1956 before returning to Germany in the 1970s, this time as a U.S. citizen.
Altay remained a well-known public figure in his home country and Kyrgyz writer Beksultan Jakiev made him the hero of one of his novels.
RFE/RL Central Asia Report

SUBSCRIBE For regular news and analysis on all five Central Asian countries by e-mail,
subscribe to "RFE/RL Central Asia Report."