American In Russian Orphan Case Sentenced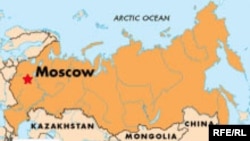 (RFE/RL) May 25, 2006 -- An American woman who beat to death a 2-year-old girl she had adopted from a Siberian orphanage was sentenced today to 25 years in prison.
Peggy Sue Hilt of Wake Forest, North Carolina, told police after the July 2005 death of Nina Hilt that she flew into a rage when the girl would not stop crying and repeatedly punched, kicked, and stepped on the girl.
Nina, who was 16 months old when she was adopted, died the next day.
The prosecution urged a severe sentence for Hilt, and the 25-year term exceeded the sentencing guideline range of 12 to 21 years.
The case prompted outrage in Russia and calls for tougher rules governing foreign adoptions.
(AP)


UPDATED CONSTANTLY: Visit RFE/RL's Russian-language website, featuring news, analysis, features, streaming audio, and more, in Russian, from RFE/RL's Russian Service.
ARCHIVE
RFE/RL's English-language
coverage of Russia
.