Montenegro Premier Accuses Serbia Of Interference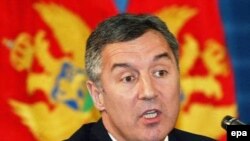 Montenegrin Prime Minister Milo Djukanovic (file photo) (epa) May 26, 2006 -- Montenegro's Prime Minister Milo Djukanovic today accused the Serbian government of encouraging his opponents to reject the result of a May 21 referendum backing independence.
Djukanovic told a Montenegrin daily that the Montenegrin opposition is acting directly on the orders of Belgrade.
In the vote, 55.5 percent of the Montenegrin electorate voted to separate from Serbia.
(Reuters)