Belgrade Says Kosovo Is No Montenegro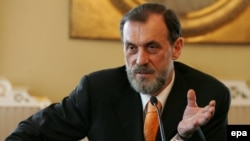 Serbia and Montenegro Foreign Minister Vuk Draskovic (epa) May 24, 2006 -- Vuk Draskovic, the foreign minister of Serbia and Montenegro, said today that the international community would be making a "very bad decision" if it were to draw a comparison between Montenegro -- which has just voted to make itself independent of Serbia -- and Kosovo.
Speaking at a seminar in the Finnish capital, Helsinki, Draskovic said any international moves to settle the status on Kosovo could trigger new turbulence in the Balkans.
Kosovo is legally a province of Serbia, but has been run by the UN since 1999, following a NATO campaign to halt attacks by Serb forces on ethnic Albanian community. UN-brokered final status talks are expected to start soon.
Montenegro was a constituent republic of Yugoslavia, but remained in a union with Serbia after the rest of the Yugoslav federation broke up.
(Reuters)