Annette Dixon, director of the bank's east and Central Asia operations, said on May 30 that authorities had made "impressive progress" on stabilizing the economy. She added that the country had benefited from efforts to reduce debt levels.
"Tajikistan has made an impressive progress on stabilizing the economy and the country socially and now is embarking on an important program of improving the business climate," Dixon was quoted as saying by AFP.
Several new Tajik projects are under discussion between the World Bank and the government in Dushanbe, including to foster foreign investment and reform public administration, Dixon said.
The World Bank has lent Tajikistan some $400 million since the country achieved independence, with nearly $60 million planned in grants and loans this year, according to AFP.
UN Human Rights Council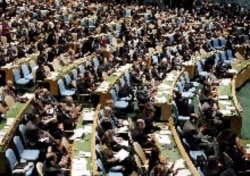 UN General Assembly delegates applaud the creation of the UN Human Rights Council on March 15, 2006 (epa)
A FRESH START ON HUMAN RIGHTS: The United Nations General Assembly on May 9 elected members to its new Human Rights Council, a step that reformers hope will help improve the United Nations' sullied record on defending human rights. The UN's old human rights watchdog -- the Commission on Human Rights -- had long been criticized for granting membership to countries with dismal human rights records, such as Cuba, Sudan and Zimbabwe.
Every member of the new body has to pledge to promote human rights. (more)
RELATED ARTICLES
General Assembly Votes To Create New Rights Council
Vote On Human Rights Council In Limbo Over U.S. Objections
At 60, UN Gripped By Debate on Human Rights Reform
SUBSCRIBE
For a regular review of civil-society developments throughout RFE/RL's broadcast region,
subscribe to "RFE/RL (Un)Civil Societies."