WASHINGTON, May 31, 2006 (RFE/RL) -- Secretary Rice said the United States understands that Iran has a right to nonmilitary nuclear technology, and that U.S. President George W. Bush is determined to resolve the matter diplomatically.
As a result, Rice said Washington is willing to join direct talks with Iran, along with Britain, France, and Germany, known as the EU-3.
"To underscore our commitment to a diplomatic solution and to enhance the prospects for success, as soon as Iran fully and verifiably suspends its enrichment and reprocessing activities, the United States will come to the table with our EU colleagues and meet with Iran's representatives," she said.
"While we have worked to get agreement on what had been some tactical differences, I think you can be sure that our friends and our partners understand the importance of this step and the importance that the Iranians must now see of making a choice and making that choice clearly." -- U.S. Secretary Rice
Iran and the United States have had no formal diplomatic relations since the 1979 Islamic Revolution, during which militants stormed the U.S. Embassy in Tehran and held 52 American hostages for 444 days. Since then, the two countries also have had no formal face-to-face talks, whether bilateral or multilateral.
Rice warned Iran not to reject the U.S. offer.
"The negative choice is for the regime to maintain its current course, pursuing nuclear weapons in defiance of the international community and its international obligations. If the regime does so, it will incur only great cost," she said. "We and our European partners agree that that path will lead to international isolation, and progressively stronger political and economic sanctions."
An 'Important Step'
Washington and the EU-3 want the United Nations Security Council to impose tough sanctions on Iran if it ignores a UN demand that it end the nuclear program. But both Russia and China so far have opposed sanctions. Both are permanent members of the Security Council and, therefore, have veto power over any sanctions resolution.
At the news conference, Rice was asked twice about whether Russia and China would be open to sanctions if Iran were to reject the U.S. offer. Both times, the secretary sidestepped the question.


"While we have worked to get agreement on what had been some tactical differences, I think you can be sure that our friends and our partners understand the importance of this step and the importance that the Iranians must now see of making a choice and making that choice clearly," she said. "I think we have very good understanding with our partners about that."
Talks Won't Solve All Problems
Even if Iran accepted the offer and suspended its nuclear program, Rice said Tehran's behavior in other areas remains problematic to the U.S. administration. She accused the Iranian government of supporting terrorism among Palestinians, contributing to the violence in Iraq, and undercutting Lebanese sovereignty.
In fact, Iran's acceptance of the U.S. offer wouldn't even resolve the issue of nuclear weapons, according to Anthony Cordesman, a former intelligence analyst with the U.S. State and Defense departments.
In an interview with RFE/RL, Cordesman says Iran's possible agreement to suspend its nuclear activities doesn't provide the EU-3 and the United States with what he calls "a simple measure of win or lose." Under the best of circumstances, he says, Iran will need careful watching.
"Even if Iran appears to concede on every diplomatic level, it can still go on in many areas developing the capability to produce nuclear weapons, creating better centrifuges, refining its weapons designs, creating more covert activities. We have to think of this as a long-term duel, not something that can be resolved with a piece of paper," he said.
Cordesman says today's offer by the Bush administration is a pivotal step that sends many important signals to Iran, to the EU-3 and to Russia and China about the Bush administration's determination to resolve the issue peacefully. But he contends that it's not so important that it, in his words, "changes the rules of the game."
IAEA Final Resolution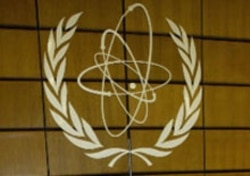 READ
On 4 February, the Board of Governors of the International Atomic Energy Agency approved in a 27-3 vote a resolution to report the matter of Iran's nuclear program to the United Nations Security Council. The key section of the resolution is Section 1, which states that the Board of Governors:
Underlines that outstanding questions can best be resolved and confidence built in the exclusively peaceful nature of Iran's program by Iran responding positively to the calls for confidence-building measures which the Board has made on Iran, and in this context deems it necessary for Iran to:
reestablish full and sustained suspension of all enrichment-related and processing activities, including research and development, to be verified by the Agency;
reconsider the construction of a research reactor moderated by heavy water;
ratify promptly and implement in full Additional Protocol;
pending ratification, continue to act in accordance with the provisions of the Additional Protocol with Iran signed on 18 December 2003;
implement the transparency measures, as requested by the Director General, which extend beyond the former requirements of the Safeguards Agreement and Additional Protocol, and include such access to individuals, documentation relating to procurement, dual use equipment, certain military-owned workshops and research and development as the Agency may request in support of its ongoing investigations.
COMPLETE TEXT: To read the final resolution, with late-hour changes highlighted, click here.

THE COMPLETE PICTURE: RFE/RL's complete coverage of controversy surrounding Iran's nuclear program.