Belgrade Issues Warrant For Milosevic's Daughter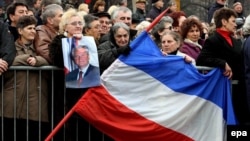 The funeral of Slobodan Milosevic in March (epa) June 1, 2006 -- The Serbian Interior Ministry today issued an arrest warrant for the daughter of late Yugoslav leader Slobodan Milosevic.
The step is a response to Marija Milosevic's failure to appear in court to face charges of breaching the peace and unauthorized possession of a firearm.
The charges date back to 2001, when she fired several shots while her father was being arrested in Belgrade.
Her trial has been postponed more than 10 times, each time because she failed to turn up at the courthouse.
(AFP, dpa)