PRAGUE, March 17, 2006 (RFE/RL) – Speculation about what felled former Yugoslav President Slobodan Milosevic has filled the media since he was found dead in his prison cell in Holland on March 11.
Today, the UN tribunal that was trying the 64-year-old Milosevic on charges of genocide and war crimes sought to put the speculation to rest.
Tribunal President Judge Fausto Pocar said preliminary results from blood tests on Milosevic's body turned up no evidence of foul play.
Pocar quoted from a letter sent with a report from the Dutch public prosecutor to Milosevic's lawyer.
"So far, no indications of poisoning have been found," Pocar said. "A number of medicines prescribed for Mr. Milosevic were found in the body material, but not in toxic concentrations."
Final Results Still To Come
However, the judge noted that the tribunal is still awaiting the final results of the toxicology tests. He did not say when they would be available.
The former president of Yugoslavia -- who had been on trial in The Hague for almost four years -- was known to suffer from a number of ailments, including high blood pressure and a heart condition.
The initial results from an autopsy conducted immediately after his death indicated the cause of death was a heart attack.
"According to the pathologists [on March 12], Slobodan Milosevic's cause of death was a myocardial infarction," Pocar told journalists today. "Further, the pathologists identified two heart conditions that Slobodan Milosevic suffered from, which they said would explain the myocardial infarction."
Speculation Continues
The judge's statements to the media today come amid persistent charges by Milosevic's supporters that he was poisoned. There has also been speculation that Milosevic was taking medications beyond those prescribed by his doctors and that these unauthorized drugs could have led to his death – either by murder or suicide.
Much of that speculation has centered on reports that Milosevic was taking rifampicin -- a leprosy and tuberculosis drug that could have counteracted the effect of his blood-pressure medication.
But Judge Pocar said today that no traces of that drug were found in the toxicology tests.
However, he noted that traces of rifampicin disappear rapidly after ingestion, allowing investigators to conclude for now only that the drug was not taken for several days before Milosevic's death.
Tribunal registrar Hans Holthuis confirmed that traces of rifampicin were found when Milosevic took a blood test on January 12.
The Russia Angle
Much media attention has also centered on demands made by Milosevic shortly before his death to seek medical treatment in Russia. The former Serbian leader maintained that the treatment he was receiving in The Hague was inadequate and that he needed to see specialists in Moscow.
But the tribunal refused, saying there was no medical need and endorsing prosecutors' arguments that he might never return. Milosevic's wife and son have long lived in Moscow to avoid a Serbian arrest warrant connected to charges of financial fraud.
Pocar sought today to quell that controversy by saying Russian specialists had always been free to come to The Hague.
"The trial chamber also added that if Milosevic wanted to be treated by specialists other than those assigned to him, such physicians were welcome to come here and treat him," he said.
On March 15, the lower house of Russia's parliament lashed out at the UN war crimes tribunal, blaming it for Milosevic's death and calling for its dissolution.
"This tribunal has a number of alleged responsible persons before it and has a mandate to render justice and to try them in a fair and expeditious way," Pocar said today in response to a question about the Russian statement.
Preparations For The Funeral
Milosevic's funeral is scheduled for March 18 in his hometown of Pozarevac, 80 kilometers southeast of Belgrade.
Milosevic's political party has put his coffin on public display in a small museum in Belgrade since it was returned to the capital on March 16.
The Serbian government has permitted Milosevic to be buried privately by his family. But it has rebuffed efforts by supporters to treat him as a deceased head of state deserving of a state funeral.
(compiled from agency reports)
Croatia's President Comments
Croatia's President Comments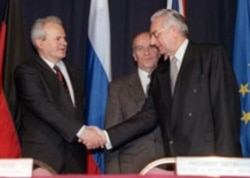 Slobodan Milosevic (left) shakes hands with Croatian President Franjo Tudjman after the signing of the Dayton peace accord in Paris on 21 November 1995 (epa)


NO COMPROMISES: On September 20, 2004, Croatian President STIPE MESIC gave an extensive interview to RFE/RL's South Slavic and Albanian Languages Service in which he discussed the history of the collapse of Yugoslavia, as well as the 1990s Balkans conflicts and Slobodan Milosevic's role in them (the complete interview in Croatian).
During this period, Mesic enjoyed a stormy relationship with Franjo Tudjman, who was Croatia's president at the time. Mesic was one of several prominent moderate Croats who did not hide his disapproval of the 1993-94 Croatian-Muslim conflict in Bosnia. Many observers held Tudjman responsible for that conflict, since he seemed bent on partitioning Bosnia with Serbian President Slobodan Milosevic and establishing a greater Croatia.
Asked whether he, as the last president of the second or communist-era Yugoslavia, feels some responsibility for the demise of that state, Mesic told RFE/RL that it was clear to him when he arrived in Belgrade in 1991 to try to take up the rotating chair of the eight-member Yugoslav presidency that federal Yugoslav institutions had ceased to function. The solution, he felt, was to reach a new political agreement. The presidency consisted of representatives of the six republics -- Slovenia, Croatia, Bosnia, Serbia, Montenegro, and Macedonia -- plus the Serbian autonomous provinces of Kosovo and Vojvodina, which enjoyed a legal status close to that of the republics under the 1974 constitution.
But, Mesic argued, Milosevic did not want such a compromise. Instead, Milosevic sought to break up Yugoslavia and create a greater Serbia. In the course of carrying out his plan, Mesic charged, Milosevic indulged in genocide and other war crimes, and for that he was brought before the Hague-based war crimes tribunal.
Milosevic never gave Mesic the opportunity to lead the country to a compromise solution, because the Serbian leader and his three allies on the presidency prevented the Croat from taking over the rotating chair.
Mesic was supported by the representatives of Slovenia, Bosnia, and Macedonia, all of which were to declare their independence in the following months when it became clear that Milosevic was interested in controlling the federation and would destroy it if he could not dominate it. (Patrick Moore)
See also:
Timeline: The Political Career Of Slobodan Milosevic
Slobodan Milosevic's Life And Legacy



THE COMPLETE PICTURE: An archive of RFE/RL's coverage of the trial of former Yugoslav President Slobodan Milosevic.
Of related interest:
RFE/RL Special: The Collapse Of Tito's Yugoslavia