Kazakhstan's recent dialogue on energy issues with the United States and Russia neatly illustrates how the multivector game is played. When U.S. Vice President Dick Cheney visited Kazakhstan on May 5, "The New York Times" reported that the top item on his agenda was the promotion of new oil and gas pipelines across the Caspian Sea to link Kazakhstan to export routes bypassing Russia. While Cheney's visit produced no concrete agreements, it underscored the possibility that trans-Caspian pipelines could provide an alternative to current export routes that move the bulk of Kazakhstan's energy resources to world markets through Russia.
Only two weeks later, on the eve of Kazakh President Nursultan Nazarbaev's May 20 meeting with Russian President Vladimir Putin in Sochi, Kazakh Foreign Minister Qasymzhomart Toqaev downplayed the chances of a trans-Caspian pipeline. Speaking on April 19, Toqaev stated that any pipeline across the Caspian would require an agreement among all five littoral states, a remote possibility at present. As Vladimir Socor noted in the Jamestown Foundation's "Eurasia Monitor" on May 24, Toqaev's remarks scaled back Kazakhstan's 2005 position that, as Socor put it, "Caspian countries have the sovereign right to lay pipelines and cables in their own sectors of the Caspian seabed."
Skillful Maneuvering
When Nazarbaev and Putin met, the Kazakh president obtained favorable tariffs for Kazakh rail shipments through Russia and Russia's consent in principle to a new pricing formula for Russian purchases of Kazakh gas. Russia's "Kommersant" framed the concessions as quid pro quo, with Putin granting the tariffs and price hike in exchange for Nazarbaev's agreeing to allow increased Russian involvement in gas production projects inside Kazakhstan.
Should Chinese and Russian energy interests clash in Uzbekistan, we may soon learn whether Uzbekistan's decision to ally itself with Russia in the wake of Andijon has left it any real room for multivector maneuvering.


But in an extended analysis of the Kazakh-Russian gas negotiations, "Ekspert Kazakhstan" suggested on May 29 that the new pricing agreement was the result of skillful multivector maneuvering in which the "idea of creating a trans-Caspian gas pipeline (despite the relative complexity of implementing such a project) played its public-relations role." With domestic gas production falling off in Russia and Russia looking to secure imports to meet its export obligations, the magazine argued that "[W]e (always bringing up our desire to supply hydrocarbons independently to Europe and the Asian-Pacific region) got a chance to change the rules of the game on the oil and gas market with attention to our own national interests."

How much more Kazakhstan will get for its gas remains to be seen, however. Kazakhstan currently supplies Russia's Orenburg refinery each year with 8 billion cubic meters of gas at $47 per 1,000 cubic meters and 3.5 million tons of gas condensate at $15 per metric ton, "Ekspert Kazakhstan" reported. Analysts queried by the magazine said that the new price of gas at the Kazakh-Russian border would be $100-$140 per 1,000 cubic meters, roughly half of what Western Europe pays, but at least double what Kazakhstan gets today. But "Vremya novostei" reported on May 29 that while Nazarbaev claimed that the new price agreement with Russia would bring Kazakhstan an additional "several hundred million dollars," talks on a base price are still ongoing, with Russian negotiators fighting hard to keep the price as close as possible to $60 per 1,000 cubic meters.

The View From Tashkent

Uzbekistan is playing a somewhat different game. After the Uzbek government's suppression of unrest in Andijon in May 2005, the country's relations with the West deteriorated significantly, and Uzbekistan has subsequently restructured its foreign policy around new friends -- primarily Russia, but also China, South Korea, India, and Pakistan.


Multivector maneuvering has not been prominent in Uzbekistan's revamped foreign policy. In fact, the close alliance between Moscow and Tashkent, based on billion-dollar Russian investments promised to Uzbekistan's energy sector and a treaty that provides for mutual military assistance in the event of "aggression" against either Russia or Uzbekistan, would seem to leave Uzbekistan little room to maneuver.
Competition between Russia and China for access to Central Asia's natural gas reserves may soon reveal just how much, or how little, room Uzbekistan has left for "multivectoring." Russia's state-controlled Gazprom, which handles lucrative exports to the West, plans to import increasing amounts of gas from Central Asia in 2007-10 to make up for declining yields at aging fields in Russia. Most of that gas will come from Turkmenistan, and with uncertainty rampant over Turkmen production capacity and reserves, Gazprom can be expected to make every effort to ensure that it is the priority purchaser of all Turkmen gas for export. Gazprom can also be expected to treat additional Turkmen export commitments as a potential threat.
One of those commitments is
a planned pipeline linking Turkmenistan and China
. The two countries inked a framework agreement on the pipeline during Turkmen President Saparmurat Niyazov's visit to China in April. With a tentative completion date of 2009 and a projected throughput capacity of 30 billion cubic meters a year, the pipeline could undercut Gazprom's plans to boost imports from Turkmenistan, which would have to increase production substantially -- a dubious bet -- over the next few years to cover all of its promised commitments.
Just Passing Through?
If China and Russia lock horns over Turkmen gas, the battleground could be Uzbekistan, which plays a crucial role as a transit country, both for current Russian imports from Turkmenistan and for the planned Turkmenistan-China pipeline. And the contest may already be under way. Even as Vice President Cheney was in Kazakhstan in early May, a Russian delegation was in Tashkent for talks of its own. The subject of those talks, the "Financial Times" reported on May 18, was "to ensure that Uzbekistan would not let its territory be transit route for a gas pipeline from Turkmenistan to China."
When the Chinese-Turkmen framework agreement on a pipeline emerged, expert reaction was skeptical for a host of reasons, among them Turkmenistan's unknown reserves and production capacity, the cost, the vast distances, the geopolitical vagaries, and the Turkmen president's ever-expanding eccentricity.
Any of these could sink the project. Nevertheless, early indications are that China and Turkmenistan are following through. NewsCentralAsia, a news agency with close ties to Turkmen officialdom, reported on May 26 that a Chinese delegation recently visited Turkmenistan to assess joint projects to extract natural gas from fields on the right bank of the Amudarya river, which are supposed to feed the proposed pipeline. And UPI reported the same day that a Turkmen delegation headed by Deputy Oil and Gas Minister Ishanguly Nuriev will visit China for what a Turkmen Foreign Ministry statement described as "efforts...aimed at implementing a general agreement on annual supply of 30 billion cubic meters of Turkmen gas to China during the next 30 years."

Should Chinese and Russian energy interests clash in Uzbekistan, we may soon learn whether Uzbekistan's decision to ally itself with Russia in the wake of Andijon has left it any real room for multivector maneuvering. And the test case will have broader implications. With Russia intent on establishing itself as an "energy superpower," the soft Central Asian underbelly of the natural-gas colossus assumes ever greater significance, both as a new focal point of Russian foreign policy and a site of competing energy interests. For the nations in the region, the extent of their ability to use multi-vector policies for leverage may well determine how much, or how little, they benefit from the resources they possess and the outside world so covets.
Turkmenistan In The Middle
Turkmenistan In The Middle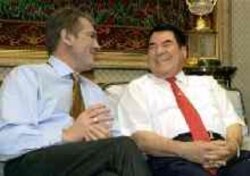 Turkmen President Saparmurat Niyazov (right) meeting with Ukrainian President Viktor Yushchenko in Ashgabat in March 2005

PLAYING BOTH SIDES: The Russian-Ukrainian gas dispute is testing Turkmenistan's self-declared policy of neutrality. Along with Russia, Turkmenistan is one of Ukraine's two biggest gas suppliers. Throughout the crisis, Ukraine suggested it could turn to Turkmenistan to make up any losses of Russian gas supplies. That puts Turkmenistan in a difficult position as it seeks to balance its relations with two capitals: Moscow and Kyiv...(more)
RELATED ARTICLES
Ukraine Signs Gas Deal With Turkmenistan
Kyiv Secures Turkmen Gas Supplies For 2006
Ukraine, Russia Spar Over Turkmen Gas
ARCHIVE
An archive of all of RFE/RL's coverage of Turkmenistan.