Iranian Journalist Receives Press Award In Moscow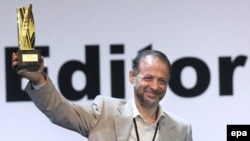 Akbar Ganji recieves the Golden Pen of Freedom (epa) June 5, 2006 – A dissident Iranian journalist, Akbar Ganji, was today awarded the 2006 Golden Pen of Freedom, the annual press freedom prize from the World Association of Newspapers (WAN).
Ganji, who spent the last six years in jail for his critical articles, was awarded the prize for his fight for freedom of expression and his refusal to be silenced.
The award was presented at the opening of WAN's annual congress in Moscow, which is being attended by more than 1,700 newspaper executives and editors.
Ganji dedicated the award to all Iranian dissidents and freedom fighters.
WAN has awarded the Golden Pen annually since 1961.