The package was agreed last week by the five permanent members of the UN Security Council, plus Germany. If offers incentives if Iran halts uranium enrichment, but also threatens penalties if it defies international demands.
Details of the package have not been released.
Iranian officials have said they would consider the package, but have rejected any preconditions for talks.
Iran has so far refused to freeze uranium enrichment, insisting its program is only for peaceful purposes. The United States and its allies fear Iran is seeking to produce atomic weapons.
EU officials say Solana will only present the package and won't be negotiating with Iranian officials.
Solana told reporters at Tehran airport that the West wants "to start a new relationship on the basis of mutual respect and trust."
He is due to meet on June 6 with Iranian Foreign Minister Manuchehr Mottaki and chief nuclear negotiator Ali Larijani.
(compiled from agency reports)
Security Guarantees For Iran?
Security Guarantees For Iran?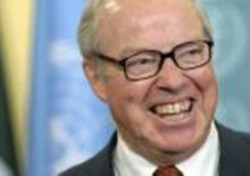 Hans Blix (CTK)

SECURITY GUARANTEES On January 26, RFE/RL Radio Farda correspondent Fatemeh Aman spoke with former UN chief weapons inspector HANS BLIX about the confrontation between Iran and the international community over Tehran's nuclear ambitions. Blix urged the United States to participate in direct negotiations with Tehran and to offer Iran security guarantees that are similar to those being discussed with North Korea...(more)
LISTEN
Listen to the complete interview (about five minutes):

Real Audio
Windows Media

THE COMPLETE STORY: RFE/RL's complete coverage of controversy surrounding Iran's nuclear program.