Kazakh Court Upholds Ban On Alga Party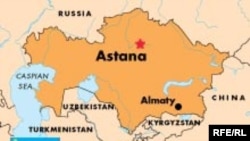 (RFE/RL) June 6, 2006 (RFE/RL) -- Kazakhstan's Supreme Court today upheld a lower judicial panel's decision to deny the Alga (Onward) opposition group registration, RFE/RL's Kazakh Service reports.
Alga leader Asylbek Kozhakhmetov
confirmed the report
to RFE/RL. He gave no further details.
Supreme Court Judge Musabek Alimbekov reasoned that a number of "dead souls" and people without citizenship had been listed among the party's founders.
The Justice Ministry earlier this year refused to register Alga. The Astana City Court confirmed the decision on April 20.
Earlier today, about 200 Alga supporters held an unauthorized protest rally in front of the Justice Ministry. They clashed with police, who made dozens of arrests.
RFE/RL's Kazakh Service reports that the detainees are being interrogated and then released.
(with additional reporting by Interfax-Kazakhstan)