The Security Service said Zhirinovsky was barred for statements allegedly offensive to Ukraine. It said a number of other Russians were also banned but would not name them.
Foreign Ministry spokesman Vasyl Filipchuk said security officials took the decision because of statements Zhirinovsky made that were allegedly offensive to Ukraine.
Ukrainian officials did not specify what Zhirinovsky's comments were or when he had made them.
"One of the important aspects in making this decision is the fact that there have been statements and actions by Mr. Zhirinovsky that are considered as infringing on the sovereignty and territorial integrity of our country," Filipchuk said.
In Moscow, Zhirinovsky, who heads the nationalist Liberal-Democratic Party of Russia, said the ban was "from a legal point, an absolute mistake" and a sign of the "weakness" of the Ukrainian authorities.
In recent weeks, Zhirinovsky has made a number of comments about the possibility of Ukraine joining NATO.
Speaking today in the Duma before it passed a resolution warning Ukraine that its relations with Russia would be harmed if it joined NATO, Zhirinovsky said that Ukraine should understand that "joining NATO means coffins with Ukrainian soldiers coming to Kyiv from Afghanistan, Iraq, and other places in the future."
Ukraine last week refused entry to a Duma lawmaker accused of taking part in anti-NATO protests in Crimea. Russia, in turn, banned a Ukrainian diplomat.

(RIA Novosti, UNIAN, Interfax-Ukraine)

Russia And The West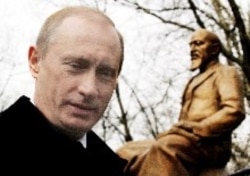 (epa)
COOPERATION, CONFLICT, CONFRONTATION: Relations between Russia and the West are notoriously volatile. "To see the kind of relationship that presidents Bush and Putin have developed and to see Russia firmly anchored in the West, that's really a dream of 300 years, not just of the post-Cold War era," then-national security adviser Condoleezza Rice said in May 2002.
But observers have increasingly called into question the extent of the shared values between Russia and the West, particularly on issues relating to the transformations going on in other former Soviet countries.
RELATED ARTICLES
Silent Diplomacy Versus Public Criticism
Analysts Say New Arms Race Unlikely
Moscow 'Unhappy' With Outcome Of CFE Conference
Moscow And Washington Spar Over WTO Membership
Russia Gears Up To Improve Its Image Abroad
Experts Urge U.S. To Rethink Relations With Russia
U.S. Official Says Russian NGO Law Part Of Antidemocratic Trend
ARCHIVE
To view an archive of RFE/RL's coverage of Russia, click here; to view an archive of RFE/RL's coverage of U.S.-Russian relations, click here.

SUBSCRIBE
For news and analysis on Russia by e-mail, subscribe to "RFE/RL Russia Report."