Bosnia To Send Serb War Crimes Suspect To The Hague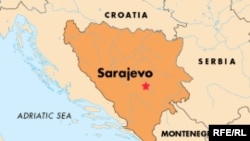 (RFE/RL) June 9, 2006 -- The Bosnian State Court today ordered a Bosnian Serb war crimes suspect to be immediately handed over to the UN court in The Hague.
The suspect, Dragan Zelenovic, was extradited from Russia to Bosnia on June 8.
A judge said arrangements have already been made with NATO for Zelenovic's transfer to the International Criminal Tribunal for the former Yugoslavia (ICTY).
The UN war crimes court charged Zelenovic with atrocities, including the rape and torture of Muslim women in the southeastern town of Foca, allegedly committed during Bosnia's 1992-95 war.
Russian authorities arrested him in August 2005 in western Siberia, where he had been hiding.
(AP, AFP)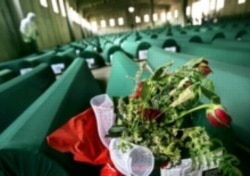 Coffins of Srebrenica victims being prepared for burial in October (AFP)

THE WORST ATROCITY IN EUROPE SINCE WORLD WAR II: The July 1995 massacre of some 7,000 Muslim men and boys by Bosnian Serb fighters near the UN-designated safe haven of Srebrenica is the worst atrocity of its kind in Europe since the end of World War II. Since the incident, the name Srebrenica has become practically synonomous with ethnic cleansing....(more)
See also:
Coming To Grips With The UN's Failure At Srebrenica
Child Of Srebrenica Returns Home For Anniversary Of Massacre