Iraq Frees Second Batch Of Detainees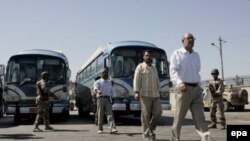 Some of the 2,500 detainess on the orders of Iraqi Prime Minister al-Maliki (epa) June 11, 2006 -- Iraq today released a second batch of detainees as part of a reconciliation effort ordered by Prime Minister Nuri Kamil al-Maliki.
A Justice Ministry spokesman said a total of 230 detainees who were being held without charges were freed from Abu Ghraib prison, Camp Bucca, and Camp Suse, all U.S.-run detention centers.
Last week, 594 detainees were released after al-Maliki announced that a total of 2,500 would be freed as a gesture designed to promote national reconciliation.
(AFP, Reuters)


SUBSCRIBE For weekly news and analysis on Iraq by e-mail,
subscribe to "RFE/RL Iraq Report."