U.S. Marine Denies Massacre In Al-Hadithah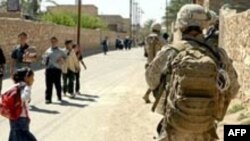 U.S. Marines on patrol in Al-Hadithah (file photo) (AFP) June 11, 2006 -- A U.S. newspaper report says a U.S. sergeant is denying that the squad of Marines that he led had massacred 24 civilians in the Iraqi town of Al-Hadithah in November.
"The Washington Post" says Staff Sergeant Frank Wuterich told his defense lawyer that the Marines properly followed their rules of engagement and did not attempt a cover-up of the killings.
The lawyer, Neal Puckett, said Wuterich described how several civilians were killed when the Marines went after insurgents who fired on them from inside a house.
(compiled from agency reports)


SUBSCRIBE For weekly news and analysis on Iraq by e-mail,
subscribe to "RFE/RL Iraq Report."