Russia's Rosneft Confirms IPO Plans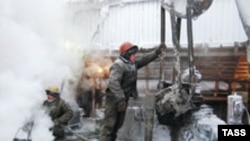 Drilling at Rosneft's Vankop oil field in Taimur (file photo) (ITAR-TASS) June 12, 2006 -- Russia's state-owned oil company Rosneft confirmed today it plans to make an initial public offering (IPO) both in London and Moscow.
The company hopes to raise up to $10 billion with the IPO, which will begin in mid-July.
Rosneft became the third biggest Russian oil company after it acquired the largest production unit of the embattled Yukos oil company in a controversial auction.
(Interfax, ITAR-TASS, AP)


UPDATED CONSTANTLY: Visit RFE/RL's Russian-language website, featuring news, analysis, features, streaming audio, and more, in Russian, from RFE/RL's Russian Service.
ARCHIVE
RFE/RL's English-language
coverage of Russia
.