Oil Giant Rosneft Seeking Global Domination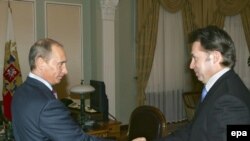 Rosneft's Sergei Bogdanchikov (right) with Russian President Vladimir Putin (file photo) (epa) April 25, 2006 -- The Russian state-owned oil company Rosneft says it aims to be the world's largest oil producer by 2015.
Rosneft President Sergei Bogdanchikov, speaking at an economic forum in London on April 24, said the company's current daily production -- 1.5 million barrels of crude oil -- would double over the next decade.
He also said that the company would become the largest by market capitalization, backed by reserves estimated at more than 30 billion barrels. Rosneft ranks among the 10 largest producers in the world.
(dpa, Reuters)


UPDATED CONSTANTLY: Visit RFE/RL's Russian-language website, featuring news, analysis, features, streaming audio, and more, in Russian, from RFE/RL's Russian Service.
ARCHIVE
RFE/RL's English-language
coverage of Russia
.