Banks Sell Yukos Debt To Rosneft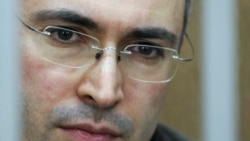 Mikhail Khodorkovsky, the jailed former head of Yukos (file photo) (ITAR-TASS) March 15, 2006 -- Western banks have sold nearly $500 million of debt owed to them by the embattled Russian oil company Yukos, once the country's largest oil producer.
The buyer was Rosneft, a state-run oil group that owns what was Yukos's key production unit, Yuganskneftegaz.
Yukos today said it had received notification about the sale of the debt.
It is not immediately clear how the sale of Yukos's debt may affect bankruptcy proceedings against Yukos. Creditor banks last week asked Moscow's Court of Arbitration to have Yukos declared bankrupt after it defaulted on a $1 billion loan.
The court has set a hearing for March 28.
Yukos was broken up in late 2004 by Russian authorities after the company was unable to meet demands for billions of dollars in back taxes and fines. Yukos's founder, Mikhail Khodorkovsky, is currently serving an eight-year prison sentence for fraud and tax evasion.
(AP, ITAR-TASS)