Russian Banker Jailed For Helping Yukos Embezzle Money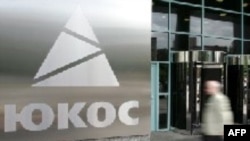 The Yukos building in Moscow (file photo) (AFP) March 13, 2006 -- A Moscow court today sentenced the head of a Russian investment company to five years in prison for helping a number of executives of Yukos, once Russia's largest oil producer, to embezzle millions of dollars of state money.
The court found Dmitry Velichko, president of the Rosinkor investment company, guilty of taking some 278 million rubles (nearly $10 million) from the state's coffers. He was arrested in January 2005.
Also today, a Moscow court said it will hear a bankruptcy suit against Yukos on March 28. Foreign creditor banks filed the suit last week in an attempt to retrieve nearly $500 million.
The founder of Yukos, Mikhail Khodorkovsky, is currently serving an eight-year prison sentence for fraud and embezzlement. The trial against him was widely seen as an attempt by the Kremlin to end his political ambitions.
(ITAR-TASS, Interfax)