Tehran, Riyadh Agree On Need For Peaceful Nuclear Solution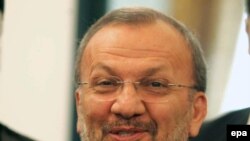 Iranian Foreign Minister Mottaki (file photo) (epa) June 12, 2006 -- Iranian Foreign Minister Manuchehr Mottaki said today that Iran and Saudi Arabia are in agreement about solving the dispute surrounding Tehran's nuclear program peacefully and through negotiations.
Mottaki was speaking at a joint press conference in Tehran with his visiting Saudi counterpart, Saud al-Faisal, who arrived today for a one-day visit. Mottaki said talks with al-Faisal centered on Iran's nuclear dispute with the international community.

Al-Faisal expressed hope that the nuclear crisis would be solved as soon as possible.

He refused to comment on the content of a message he reportedly delivered to Iran's supreme leader from Saudi King Abdullah.
Members of the UN nuclear watchdog, the International Atomic Energy Agency (IAEA), were meeting today in a session that was expected to include debate on the Iranian nuclear program.
The United States and Britain have accused Tehran of a secret program to develop nuclear weapons, while Iranian officials have consistently denied anything but peaceful plans for their nuclear technology.
IAEA Cautious
IAEA Director-General Mohammad el-Baradei said today that Iran is still resisting investigation into its nuclear program.
El-Baradei welcomed a Western offer of incentives to Iran to resolve the crisis over the country's nuclear program. He made the comments in a speech at the opening of the IAEA board meeting in Vienna.
Earlier today, European Union foreign policy chief Javier Solana said that he expected a response this week to the offer by United States, France, Germany, Britain, Russia, and China.
But today Tehran said again that it will not negotiate over its right to enrich uranium. Iranian government spokesman Gholam Hossein Elham however said that Iran is conducting a full examination of the offer, which he described as "a step forward."

THE COMPLETE PICTURE: RFE/RL's complete coverage of controversy surrounding Iran's nuclear program.
CHRONOLOGY
An
annotated timeline
of Iran's nuclear program.