Bush Holds Talks On Iraq Strategy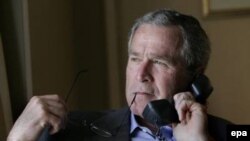 U.S. President George W. Bush (file photo) (epa) June 12, 2006 (RFE/RL) -- U.S. President George W. Bush held talks today with top military commanders and advisers on how to move forward in Iraq.
Bush and Vice President Dick Cheney were briefed by video conference at the presidential retreat at Camp David, near Washington, by General George Casey, the top U.S. commander in Iraq; General John Abizaid, who has overseen the wars in Iraq and Afghanistan; and Zalmay Khalilzad, the U.S. ambassador to Iraq.
Bush said he thought their recommendations on how to win in Iraq -- "to have an Iraq that can govern itself, sustain itself, defend itself" -- were valid.
The meeting came as the administration sought to capitalize on the death of top terrorist leader Abu Mus'ab al-Zarqawi.
Bush told the military commanders that he realizes al-Zarqawi's death will not end the war. But he asked the commanders to congratulate the troops for bringing al-Zarqawi "to justice."
(with material from AP)