Activists said afterward that police forces detained more than 50 people shortly after the gathering started. One former reformist legislator, several students, and women's rights activists are reportedly among the detainees. Several activists were arrested and summoned to court ahead of the announced gathering.
Activists say several hundred demonstrators of both genders attended the peaceful gathering, which was held to protest legal obstacles for women.

They were planning to remain in front of a nearby park for one hour and voice their objections to discriminatory laws.

According to the interpretation of Islamic laws applied in Iran, a woman's testimony in court is worth half of a man's. Women's divorce rights are negligible compared with those for men. And women need the permission of their father or husband to travel.

Activists planned to call for equal legal rights in marriage, divorce, child custody, inheritance, and other areas.

They also said that they would read aloud a statement claiming that despite efforts to achieve equal status, women's most basic rights "have been ignored in the Iranian civil and penal codes."
Authorities Were Prepared

But shortly after the gathering started, participants faced tough action by police forces, who dispersed the gathering within about an hour.


Keyvan Rafi, the spokesman of a newly founded group that calls itself Human Rights Activists In Iran, told RFE/RL that police and security forces outnumbered protesters.
He said they resorted to force to crush the protest.
"[Police] forces -- especially armed female officers with batons -- suppressed the protest," Rafi said. "Between 70 and 80 people were arrested -- former MP Mussavi Khoinia, women's rights activist from Amir Kabir University Leila Mohseninejad, and also members of Daftare Tahkim Vahdat [major reformist student organizations] are among those arrested -- in addition to many women whose name we have not been able to obtain yet."
Despite the clashes, some protesters managed to chant slogans urging that laws against women be abolished.
Some bloggers claiming to have witnessed the scene accused authorities of dragging women on the ground by their hair and savagely beating others. They say pepper gas was used against the activists.
Pattern Of Repression

The June 12 protest came exactly one year after more than 1,000 women's rights activists staged a protest in front on Tehran University. They called for legislative change to guarantee equal rights for women. That demonstration was also forcefully dispersed by police.

But activists have vowed to continue their peaceful protests until their demands are met.

Three months ago, on March 8, they held another gathering in Tehran to commemorate UN-sponsored International Women's Day. That assembly was also broke up by security forces, who detained several people.

Activist Fariba Davoudi Mohajer -- who was among those summoned to court ahead of the June 12 gathering -- told Radio Farda on June 8 that activists are ready to pay a price for their efforts.

"Women have a common discourse that is based on demands for equality," Mohajer said. "We have reached the conclusion that we have to work together, and this is a very positive development in the history of Iran's women's movement. This is a continuous movement with [solid] roots. The community of Iranian women has also accepted the costs [women] must pay for their actions. They have accepted that a social movement has its price, and they have to pay for it."
Nobel Appeal

Last week, during a meeting in Vienna, outspoken Iranian Nobel Peace Prize laureate Shirin Ebadi said that Iranian women should not tolerate legal discrimination.

"The discriminatory laws are applied in a country whose women are better educated than its men," Ebadi said. "More than 65 percent of our university students are girls. Naturally, a society where its women are so cultivated and so well-educated cannot tolerate evident gender discrimination in the laws."

On Ebadi's initiative, four fellow female Nobel Peace Prize laureates expressed public support for the June 12 gathering in Tehran.

Guatemala's Rigoberta Menchu, America's Jody Williams, Kenya's Wangari Maathai, and Northern Ireland's Betty Williams joined Ebadi in saying they support Iranian women in their continued struggle for equal rights.

Ahead of the ill-fated demonstration, Amnesty International also called on the Iranian government to end discrimination against women. The London-based rights watchdog said Iranian officials should take prompt action to address laws that continue to deny women basic rights.
Women In Iran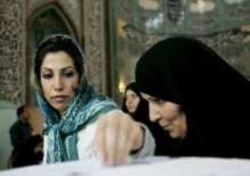 Women in Tehran (epa file photo)

CALLING FOR MORE RIGHTS: Although women played key roles in Iran's 1979 Islamic Revolution, the place of women in post-revolutionary society has been a vexing question. Iranian women have struggled to bring attention to their calls for greater rights in their country's rigid theocratic system, calls that have often clashed with the values proclaimed by conservatives in society. (more)
RELATED ARTICLES
Tehran Police Renew Campaign To Combat 'Un-Islamic' Dress
Iranian Peace Prize Laureate Shirin Ebadi On Women's Rights
Activists Concerned About Self-Immolation Of Iranian-Kurdish Women
The Younger Generation's 'Tehran Blues'
ARCHIVE
RFE/RL's coverage of Iran. RFE/RL's coverage of issues concerning women throughout our broadcast area.

SUBSCRIBE
For a regular review of civil-society developments throughout RFE/RL's broadcast region, subscribe to "RFE/RL (Un)Civil Societies."