Eurasia: Unified Message Emerges From Shanghai Summit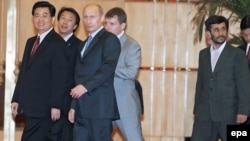 Leaders from SCO member states and observer Iran's President Ahmadinejad (right) at the June 15 meeting (epa) The Shanghai Cooperation Organization (SCO) held a summit in eastern China today at which leaders from Russia, China, Kazakhstan, Kyrgyzstan, Tajikistan, and Uzbekistan reaffirmed their commitment to improving mutual ties and signed agreements on fighting terrorism and developing better transportation links. The leaders of Iran, Pakistan, Mongolia, and Afghanistan were also at today's gathering, as well as high-ranking officials from India.
PRAGUE, June 15, 2006 (RFE/RL) -- SCO leaders placed a widely anticipated emphasis on security issues at the meeting, billed as the group's fifth-anniversary summit.

Chinese President Hu Jintao asserted to reporters afterward that the expansive SCO region is stable. But he also identified "three forces" that he said threaten stability: terrorism, extremism, and separatism.
"Three forces are rampant -- drugs are widespread, cross-border crimes are serious, and particularly economic development is lagging."
"Just like the rest of the world, this region is basically stable," Hu said. "But at the same time, three forces are rampant -- drugs are widespread, cross-border crimes are serious, and particularly economic development is lagging. We need to comprehensively build up our cooperation, work for a long-lasting peace, shared glory, and a harmonious region."

Working In Concert

Other leaders echoed those statements. Russian President Vladimir Putin said SCO members need to work in concert to improve their ability to combat terrorism and extremism. The declaration signed at the end of the summit emphasized the Shanghai group's role in fighting the threats of terrorism and extremism on the Eurasian continent. In it, members vow to "make [a] constructive contribution to the establishment of a new global security architecture of mutual trust, mutual benefit, equality, and mutual respect."

Putin suggested that the SCO -- which previously has stated it is not and will not be a military bloc -- could help alleviate "crisis situations."

Such comments were presumably well received by the Central Asian leaders attending the summit. Kyrgyzstan and Uzbekistan have waged high-profile battles against Islamic extremists for several years now. Yesterday Kyrgyz Prime Minister Feliks Kulov warned of the danger of renewed attacks by armed extremists in Central Asia's Ferghana Valley in the coming months.

Interest From The Gallery


SCO talk of help in the fight against terrorism might be welcomed also by Pakistani President Pervez Musharraf and Afghan President Hamid Karzai -- in attendance with observer and guest status. Pakistan and Afghanistan are both battling armed insurgencies and terrorist movements that threaten to weaken their central governments.
Musharraf also used the occasion to lobby for his country's full SCO membership -- something that Pakistan, along with Iran, India, and Mongolia, have been seeking for several years.

Russian President Putin noted the interest of other countries in joining the SCO.

"The attention of both individual states and regional formations toward SCO activity is growing steadily," Putin said. "This interest shows the constructive and open position of member states. The equal and mutual beneficial character of our partnership becomes a big attracting force."

Kazakhstan's president, Nursultan Nazarbaev, called on the SCO to work out a process for accepting new members.

"It is important to mention that attention [at the summit] was paid to issues related to improving procedures for admission to the SCO of new member states and observers," Nazarbaev said. "This issue is especially important in light of the growing interest of the international community toward the SCO. We instructed the council of foreign ministers of the SCO to coordinate and consider ways and criteria for new states to be admitted to the organization."

Practical Goals
"An effective and equal partnership can reduce the gaps among the standards of living in our societies and turn Central Asia into a dynamic part of the international community."
Amid calls for closer cooperation on security issues and to fight drug trafficking, the SCO leaders also reiterated the desire for improved trade relations within the group. They noted new road and rail links, as well as investment in energy projects in Central Asia. President Putin said cooperation among the SCO states could raise the standards of living in all six countries, and he noted a special significance for Central Asia.

"An effective and equal partnership can reduce the gaps among the standards of living in our societies and turn Central Asia into a dynamic part of the international community," Putin said.

Chinese officials also concluded bilateral deals in the run-up to the SCO summit to invest in energy projects in Kazakhstan, Kyrgyzstan, and Tajikistan.

One year ago, the Shanghai group concluded a summit in Astana by calling on the United States to set a timetable for leaving Central Asian military bases that were being used for coalition operations in Afghanistan.

Today's summit produced no single statement that will attract as much attention. But in a presumed allusion to the West, the six leaders stated flatly that models of social development should not be exported. The group also expressed a joint desire to see that the next UN secretary-general comes from Asia.

(Kubat Otorbaev of RFE/RL's Kyrgyz Service contributed to this report.)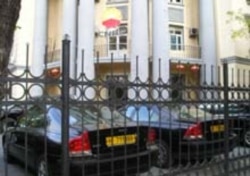 The Almaty,Kazakhstan, office of China's National Petroleum Corporation (RFE/RL)
BEIJING ON THE RISE:
The September 11, 2001, terrorist attacks against the United States prompted Washington to topple the Taliban regime in Afghanistan. At the time, many predicted the United States would gain a new foothold in Central Asia: new U.S. military bases appeared in Kyrgyzstan and Uzbekistan, U.S. foreign aid increased, and much U.S. attention was lavished on the region. Russia and China looked on warily. But the pendulum may be swinging back in Moscow's and Beijing's favor. China, especially, has expended great effort at winning friends in Central Asia and is becoming a force to be reckoned with
....(more)
RELATED ARTICLES
Turkmenistan-China Pipeline Project Has Far-Reaching Implications
Central Asia Looks To Fuel Asia's Economic Boom
The Geopolitical Game In Central Asia
ARCHIVE
To view an archive of RFE/RL's coverage of China, click here.

SUBSCRIBE
For weekly news and analysis on all five Central Asian countries by e-mail, subscribe to "RFE/RL Central Asia Report."