Azerbaijani President Ilham Aliyev's aircraft was the first to land in Almaty, the country's foreign ministry said.
Aliyev was followed by Thai Prime Minister Thaksin Shinawatra and Russia President Vladimir Putin.
Formed in 1992 with the aim of increasing security in Asia, the group includes Russia and China as well as South, Southeast, and Central Asian countries. Israel, Egypt, and Turkey also are members.
(KazInform, ITAR-TASS)
Military Bases In Central Asia
Military Bases In Central Asia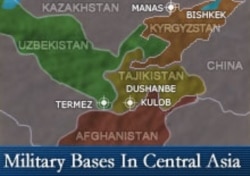 Click on the map for an enlarged image.

PROJECTING POWER: Since the collapse of the Soviet Union and the onset of the war on terror, Central Asia has played an important role in military-security issues. At times, Russia and the West have clashed over questions related to military deployments. RFE/RL has provided extensive coverage of this increasingly important geopolitical matter.
RELATED ARTICLES
U.S. Official Discusses Policy In Central Asia
Kazakhstan Looks To Build On Alliance With Putin
The Geopolitical Game In Central Asia
Dushanbe Conference Focuses On Regional Security
Russia And U.S. Often At Odds In Central Asia
China-Russia Bloc Challenges U.S. In Region


THE COMPLETE STORY: Click on the icon to view a dedicated webpage bringing together all of RFE/RL's coverage of Kazakhstan, Kyrgyzstan, Tajikistan, Turkmenistan, and Uzbekistan.