Bucharest Says CIA Flights Made Only Technical Stops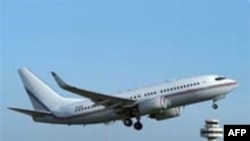 A CIA aircraft taking off from an airport in Spain in 2004 (AFP) June 16, 2006 -- A Romanian parliamentary committee says U.S. military planes allegedly used by the CIA to transfer suspected terrorists made stopovers in Romania "only for technical reasons."
The committee also denied that Romanian territory was used for keeping or transferring suspected terrorists.
According to a Council of Europe report, 14 European countries, including Romania, colluded in or tolerated the secret transfer of terrorist suspects by the United States.
(dpa, AFP )