U.S. Probe Into Al-Hadithah Completed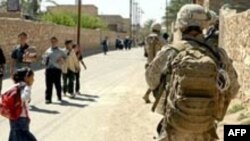 U.S. Marines on patrol in Iraq (file photo) (AFP) June 16, 2006 -- The U.S. military says a probe of whether Marines covered up the alleged killing of as many as 24 civilians in the Iraqi city of Al-Hadithah last year has been completed.
Military officials in Baghdad say the report is now under review.
They say Lieutenant-General Peter Chiarelli, commander of U.S. ground forces in Iraq, has received the findings of the investigation and would either approve the findings, add his own conclusions, or request more information from the investigating officer.
(Reuters, AP)