Speaking in Almaty, Kazakh President Nursultan Nazarbaev told the presidents of Russia, China, and other leaders that the world community has to join forces to take on challenges such as social degradation, poverty, and the environment. He told the one-day summit that the key to fighting poverty and social degradation in the region lay in the development of trade and economic relations.
"The level of economic development of states directly affects our ability to provide regional stability. It's no secret that the spread of poverty and social degradation in a whole series of regions provides nourishment for new threats," Nazarbaev said. "Therefore, stable economic growth and the provision of firm development to a large degree determine the ability of our states adequately to oppose these contemporary challenges. One of the first steps towards strengthening trust in this area could be the widening of economic and trade cooperation."
Leaders attending the Conference on Interaction and Confidence-Building Measures in Asia, which was founded by Nazarbaev, included Chinese President Hu Jintao, Russian President Vladimir Putin, Pakistani President Pervez Musharraf, and Afghan President Hamid Karzai.
Among others, there were observers from Indonesia, Japan, Ukraine, the United States, and the United Nations.
Fighting Terrorism
Russian President Vladimir Putin said the gathering should seek to reinforce cooperation in fighting terrorism and extremism, as well as drug trafficking and international crime. Chinese President Hu joined Nazarbaev in urging the need for greater economic integration in the region.
But Nazarbaev also made an appeal for greater regional attention to ecological issues, a growing concern in a region that has been ravaged by environmental disasters.
"Events of the last few years graphically illustrate the need for joint measures and warning systems, as well as multilateral efforts to overcome the consequences of natural disasters and technological catastrophes," Nazarbaev said. "Together with the formation of a stable system of trust, we also need arrangements for rapid exchange of information. It is painful to admit that the absence of necessary and timely information can end in tragedy for hundreds of thousands of people."
Critics of the Conference on Interaction and Confidence-Building Measures in Asia, which was founded in 1999, argue that it is little more than a talking shop that has done little to deal directly with the issues it claims to address.
But it does bring together 17 member states and may be well placed to play a more active role as the region's leaders seek to strengthen cooperation in Asia.
(with agency reports)
China In Central Asia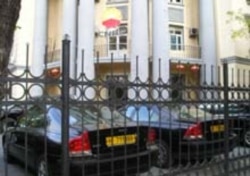 The Almaty,Kazakhstan, office of China's National Petroleum Corporation (RFE/RL)
BEIJING ON THE RISE:
The September 11, 2001, terrorist attacks against the United States prompted Washington to topple the Taliban regime in Afghanistan. At the time, many predicted the United States would gain a new foothold in Central Asia: new U.S. military bases appeared in Kyrgyzstan and Uzbekistan, U.S. foreign aid increased, and much U.S. attention was lavished on the region. Russia and China looked on warily. But the pendulum may be swinging back in Moscow's and Beijing's favor. China, especially, has expended great effort at winning friends in Central Asia and is becoming a force to be reckoned with
....(more)
RELATED ARTICLES
Turkmenistan-China Pipeline Project Has Far-Reaching Implications
Central Asia Looks To Fuel Asia's Economic Boom
The Geopolitical Game In Central Asia
ARCHIVE
To view an archive of RFE/RL's coverage of China, click here.

SUBSCRIBE
For weekly news and analysis on all five Central Asian countries by e-mail, subscribe to "RFE/RL Central Asia Report."