The Chechen resistance leadership has not yet confirmed Sadulayev's death. Predictably, both Kadyrov and pro-Moscow Chechen administration head Alu Alkhanov have termed Sadulayev's demise "a major success" in the campaign to stamp out continuing resistance to the pro-Moscow regime installed in Chechnya six years ago. But in military terms, the impact both in Chechnya and in those neighboring republics of the North Caucasus where the Islamic resistance operates is likely to be negligible, at least in the short term.

In an interview with the Bulgarian weekly "Politika" (published in the issue for June 9-15 and posted on chechenpress.org on June 17, the morning that his death was announced), Sadulayev noted that in the same way that a session of the War Council in the summer of 2002 formally confirmed him as Maskhadov's successor, he had publicly designated as his own successor veteran field commander Doku Umarov, whom Sadulayev named vice president exactly one year ago. Sadulayev stressed that the legality of his decree naming Umarov cannot be contested.

In his interview with the Bulgarian weekly, Sadulayev downplayed the possibility of his own death, saying that "there was someone [to command] before me. And if through the will of Allah I meet my death, there is someone to continue this task even better." Umarov too has commented that the death of a resistance commander, while regrettable, has minimal impact on the resistance as there is always someone willing and competent to take his place.

Field Commanders

Sadulayev also created last summer a network of emirs, or field commanders, responsible for the various sectors of the North Caucasus. The commanders of the Daghestan, Ingushetia, and Kabardino-Balkaria fronts liaise on a regular basis with Umarov and with radical field commander Shamil Basayev, who has overall responsibility for military operations across the North Caucasus, Umarov told RFE/RL's North Caucasus Service in an interview in April 2006. Sadulayev likewise in his interview with the Bulgarian weekly stressed the unity and coordination between the various resistance groups, saying that it is growing stronger and more extensive daily.


Umarov, who was born in 1964, is one of the most experienced Chechen field commanders, having fought since the beginning of the first Chechen war in 1994. And crucially, he has never been identified as having participated in any resistance operation branded "terrorist" by the Russians. What's more, in an interview one year ago with RFE/RL's Russian Service, Umarov categorically rejected inflicting on the Russians the same atrocities that they routinely inflict on the Chechens. "If we resort to such methods, I do not think any of us will be able to retain his human face," Umarov said. He added that the Chechen resistance en masse does not consider the 2004 Beslan hostage taking was a legitimate response to Russia's actions in Chechnya.
That rejection of terrorism as a tactic is reminiscent of the prohibition imposed by Maskhadov on conducting military operations against Russian civilians or beyond the borders of Chechnya. But Umarov, in contrast to Maskhadov, affirmed one year ago that the resistance considers it appropriate to expand its activities to other regions of the North Caucasus.
Major Operations
Sadulayev too in his interview with the Bulgarian weekly "Politika" affirmed unequivocally that "in our state we do not consider it acceptable to conduct operations that entail the seizing of hostages, civilians." That affirmation calls into question Chechen Prime Minister Kadyrov's claim, quoted by regnum.ru on June 17, that at the time of his death Sadulayev was planning a series of major terrorist attacks in Argun.
If Sadulayev's death poses any threat at all to the cohesion of the resistance, that danger lies in the possibility of a major disagreement between Basayev and Umarov over the acceptability and expediency of staging a major operation -- like the hostage-takings in Moscow in 2002 and Beslan in 2004 -- to focus the world's attention on the ongoing war of attrition in Chechnya. (That war is being increasingly waged by pro-Moscow Chechens against their fellow Chechens.) But as RFE/RL North Caucasus Service director Aslan Doukaev pointed out in a May 31 commentary in the "International Herald Tribune," since Beslan, Basayev has not directed a single operation against a Russian civilian target, possibly because he has finally understood that killing innocent civilians only fuels Moscow's rejection of a negotiated end to the fighting.

Nor is it clear whether the timing of the operation to kill Sadulayev was fortuitous. Maskhadov was killed just weeks after he unilaterally declared a cease-fire and proposed unconditional peace talks with Moscow on ending the war. In an interview with RFE/RL's North Caucasus Service in late May, Akhmed Zakayev, a London-based former close associate of Maskhadov whom Sadulayev had just named foreign minister in the Chechen Republic Ichkeria government, said he knows that Russian government officials are currently discussing the possibility of peace talks to end the war. Dukkvakha Abdurakhmanov, speaker of the lower house of the Chechen parliament and a close associate of Kadyrov, immediately warned Moscow against any such talks, especially with Zakayev.

The Chechnya Conflict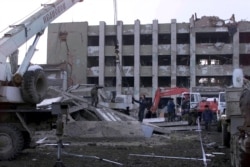 The aftermath of a December 2002 Chechen resistance attack on the main government building in Grozny (epa)


CHRONOLOGY
The
fighting in Chechnya
has raged, with short breaks, since 1994. It has brought misery, death, and destruction to the North Caucasus republic and to Russia as a whole. View an
annotated timeline
of the conflict.

ARCHIVE
RFE/RL's complete coverage of Russia's war-torn Republic of Chechnya.