TBILISI, June 19, 2006 (RFE/RL) -- Malkhaz Petanian entered the Rustavi high-security prison, near the capital Tbilisi, six years ago, after being convicted of robbery. He doesn't try to justify what he has done, but doesn't think his sentence is fair.
"I fought in Abkhazia; I'm a war veteran," Petanian says. "When I came back, I was left with nothing. I had no choice but to commit a crime to feed my family. That is how I ended up here. There is nothing I can do now -- I did something wrong, now I'm here. I have to serve my sentence, repent, and try to improve things in the future. I was sentenced to 13 years. I had never been tried before, and they still sentenced me to the maximum term. The article under which I was judged mandated a sentence of from six to 13 years. I admit that I was guilty, but why did they have to sentence me to the longest possible sentence?"
Trying To Straighten Things Out
Petanian regrets the crime he committed. But now he says he is trying to turn his life around.
"I became a believer," he says. "When I was free, I lived a different life. Here, I started to read. I had not read the Bible before. I've become aware of many things -- now I understand the burden of my sins. Today, I live a religious life. I am doing my best to repent for the sins I've committed, and to live in a righteous way."
Most inmates at Rustavi are here for serious crimes -- robbery, burglary, or murder.
Sixty-five-year-old Guram Chelidze is serving a 15-year sentence.
"I'm here for murder," Chelidze says. "But not all murderers are the same. I never killed when I was 25, so how could I possibly have murdered a person in my 60s? But it happened. Most of the elderly people who you see here are sentenced for murder. You know, some young people are nowadays very offensive toward the elderly and insult them deeply. And sometimes it becomes impossible to bear such insults. I never thought this would happen to me. Killing someone still seems unthinkable -- I would never be able to do it now, even if somebody promises me freedom in return."
Taking Turns Sleeping
Chelidze, like most inmates at Rustavi, grumbles about his living conditions. The inmates live in cramped rooms in a building that was built 50 years ago.
The same is true across Georgia. In Tbilisi's Prison No. 1 space is so scarce prisoners have to take turns sleeping.
Part of the problem is with government funding. The state allocates only 23 laris (approximately $12) for each prisoner in Georgia every month. As a result, family members often provide for the inmates.
"My husband told me they take turns to sleep," said one woman who asked not to be identified. "The cells are full of fleas. He said there are cockroaches in the food they are given, so he would rather eat only onions, garlic, and bread. I need at least 300 laris every month to bring him food and also give him some cash. I used to bring it every week -- but now, I can no longer do this. I do not even know what he eats now."
The state, it seems, is taking note.
New Prison Construction
Georgia's ombudsman, Sozar Subari, says there are both objective and subjective factors causing problems in the penitentiary system.
"The situation is catastrophic and there are two reasons for this," Subari syas. "The first is that there is not enough space for prisoners. Prison No. 1 [in Tbilisi] is particularly overcrowded, three people sharing the space of one. The second reason is absolutely subjective: the corrupt administration. Judge for yourself. In the overcrowded prisons, there are several cells where one prisoner has 50-60 square meters all to himself."
The Justice Ministry runs two prisons, 10 colonies, and two hospitals. Officials say radical reform is needed.
Deputy Justice Minister Ekaterine Tkheshelashvili says Georgia should abandon the Soviet penitentiary model -- including the so-called "corrective labor colonies" -- and should house all prisoners in cells. New prisons are being built in Rustavi, Kutaisi, and Tbilisi, which in total will house more than 5,000 prisoners.
"It has been decided that in 2006 a new prison will be built in Tbilisi, which will be big enough for both convicted prisoners, and those in remand custody," Tkheshelashvili says. "This should solve the problem of overcrowded detention facilities once and for all in Georgia."
Justice Ministry officials hope that reforms will help create a systemized, well-organized environment for the prisoners -- and will reduce the chances of prisoners escaping or reoffending.
The ministry also plans to reduce the number of prison officers -- while increasing the salaries of those who remain. Presently, a person employed in the penitentiary system earns an average salary of 100 laris a month, which is around $55. The Georgian average national salary is around $80.
Meet The Correspondent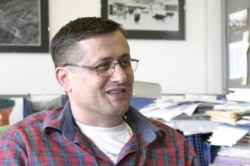 RFE/RL Georgian Service correspondent Jimsher Rekhviashvili (RFE/RL)
'EQUIVALENT TO TORTURE': On June 16, rferl.org spoke with JIMSHER REKHVIASHVILI, the author of this report. Rekhviashvili has worked for RFE/RL's Georgian Service for five years, initially as a stringer from the city of Rustavi and, later, in the Georgian Service's Tbilisi bureau. He specializes in reporting on social issues.
RFE/RL: How difficult was it for you to obtain information while working on this story?
Jimsher Rekhviashvili: In Georgia, generally, it is very difficult to get inside prisons and obtain information. I was lucky, as while working on the material, I learned that a delegation of international observers was about to visit the colony, so I arranged to go in together with them. Generally, if a reporter decides to visit a colony independently, he or she will face major bureaucratic obstacles. And even if the reporter succeeds in entering the colony, it will be extremely difficult to meet and speak with the prisoners.
RFE/RL: You, however, were able to speak to several inmates. Did you find them open toward you? How willing were they to discuss their problems?
Rekhviashvili: While preparing for the piece, I was determined to speak with the inmates, as I was convinced that without this the report would not have had much significance. Speaking on behalf of inmates is one thing; I thought it was important to give voice directly to the prisoners. Not all inmates are willing to speak to reporters, of course. However, there were many inmates who were really eager to talk. You could tell they missed sharing their problems with somebody. One of the prisoners with whom I spoke, a middle-aged man who was serving a sentence for murder was particularly repentant and emotional. You can hear him speak in the report, and it is clear that he is about to cry.
RFE/RL: You describe a spectrum of issues in your report. What do you think is the most pressing problem?
Rekhviashvili: The living conditions, which I witnessed and which are described in the report. I think are really equivalent to torture. The inmates have no personal space. They live in extremely claustrophobic conditions, where virtually no hygienic norms are observed. The food rations offered to them by the system are very poor. The inmates survive on food that their family members bring.
A more general, and extremely significant problem, is that in such environment, it is simply not possible to fulfill the main purpose of the punishment -- to prompt the person to think through their crime and repent. Prisoners are never alone. They are constantly surrounded by other people who observe their thoughts and actions. The system, in its present shape, provides only two options to the inmates -- either to become absolutely desperate and depressed or to turn into an even more aggressive person who harasses other prisoners. In other words, the system as it is now not only does not help prisoners to repent and develop, but it actually prompts people to bring out the worst in them.
RFE/RL: Your piece ends with a discussion of reforms that are under way in penitentiary system. To what extent, do you think, will this actually solve the problems?
Rekhviashvili: I think the current reform will bring about significant improvements. The Justice Ministry plans to replace barrack-based prisons with cell-type ones, and this, in turn, will be a positive step in several respects. Firstly, this will greatly diminish the power of criminal authorities as, once isolated, they will no longer be able to oppress and harass other prisoners, as is the case now. Secondly, the administration will be able to establish tighter control in such prisons. The inmates will have more personal space. With planned increases of funds, prisoners' diet should also improve. These changes, overall, should result in more humane environment, which will enable people to serve their punishment without having to lose their human dignity.
ARCHIVE
To view a complete archive of RFE/RL's coverage of Georgia, click here. To view the website of RFE/RL's Georgian Service (in Georgian), click here.


THE COMPLETE PICTURE: For a regular review of civil-society developments throughout RFE/RL's broadcast region, subscribe to "RFE/RL (Un)Civil Societies."