But it was a declaration about integration within the SCO that drove that point home.
SCO Secretary-General Zhang Deguang announced that the SCO would devote itself to further economic integration. China's Xinhua news agency quoted Zhang on June 14 as saying the current goal is "the free flow of commodities, capital, technology, and services in the region within 20 years."
Not More Of The Same
Since the collapse of the Soviet Union in 1991, former Soviet republics have issued frequent statements, signed piles of documents, and formed several groupings aimed at economic integration. But Zhang's declaration was the first to have included China in its architecture.
Yiyi Lu, a China analyst with the Chatham House (Royal Institute of International Affairs) in London, tells RFE/RL that it would be unwise to dismiss Beijing's ambitions for regional integration. She says Central Asia's integration with Russia has not succeeded in part because the Russian and Central Asian states' economies are based mostly on natural resources -- and therefore make more natural competitors. But Lu argues that there is common ground for a free economic zone that includes complementary Central Asian and Chinese economies.
"It is such a huge mass that it sweeps away everything -- including ethnic differences -- as it moves. China is inevitability."
"There is certainly the potential there," Lu says. "I think the Chinese economy and the Central Asian economies -- between them there is great complementarity. Maybe before it was Russia talking about economic integration with these countries. Maybe there is less complementarity economically there than [with] China -- because these countries have rich natural resources but maybe less-developed manufacturing, whereas China is well known these days for its manufacturing and all kinds of consumer products."
Energy Pals
Central Asia's rich oil and gas reserves hold considerable attraction for energy-hungry China, the world's second-largest oil consumer after the United States.
More than half of the energy that China consumes is imported from abroad, mostly from the Middle East and Africa. Chinese planners clearly hope to diversify energy imports and lower dependence from volatile Middle Eastern exporters.
Beijing has recently expanded its energy ties with Central Asia. Kazakh oil started flowing to China in May through the first foreign pipeline to China. Also last week, on the eve of the SCO summit, China's National Petroleum Corporation reached a deal with Uzbekistan to invest $210 million in oil and gas exploration over the next five years.
But that may not provide the whole picture.
Getting Down To Business
Chinese officials announced on June 15 that some $2 billion worth of business contracts and loan agreements would be inked on the sidelines of the SCO summit.
China signed a deal on June 14 for the construction of a highway in Tajikistan, and officials announced financial plans to build a hydropower station in Kazakhstan. Then on June 16, $50 million was allocated for a loan to improve Uzbekistan's irrigation system. Chinese officials have also offered to link all six SCO member states via a fiber-optic network by 2010 to boost communications.
Chinese experts say their country has a lot to offer its Central Asian partners. Professor Jiangping Wang of the Shanghai Normal University tells RFE/RL that Central Asians can gain much from Chinese partnerships.
"China has very rich resources, like oil, gas, and metals," he says. "And also China has very strong human resources; and experienced, skillful Chinese workers can play a very important role to help the Central Asian republics build some basic infrastructure -- such as highways, electrical power stations, and factories. And, of course, China can supply light-industry production to Central Asia. So, in many ways, China can contribute to the economic development of Central Asia."
But not everyone in Central Asia is convinced. Some observers fear a "creeping Chinese expansion" that might overwhelm local populations. Particularly in Kazakhstan and Kyrgyzstan -- which share borders with China -- some people think a hunger for land has led to the migration of Chinese to the region.
National Concerns
Murat Auezov, a former Kazakh ambassador to China, is one such critic. He claims the Chinese have attempted to expand their territories throughout their history, and continue to do so. Auezov says Chinese oil companies working in Kazakhstan have imported all their own employees from China -- including cooks and doctors.
Auezov says he thinks China's growing influence threatens Central Asian states' sovereignty, as well as national identities. He wants to see Central Asians unite to counter growing Chinese influence.
"It is such a huge mass that it sweeps away everything -- including ethnic differences -- as it moves. China is inevitability," Auezov says. "It is a great neighbor for us, and we can benefit from it. But we need to be prepared. I believe the best means to preparedness is a conscious consolidation and solidarity of the Central Asian states and peoples. We, neighbors, have certain [bilateral] problems -- for example, border issues. But we should be able to stand together. We will maintain our sovereignty and freedom if we're able to create a well-functioning Central Asian brotherhood."
Words like "solidarity" and "brotherhood" might sound ambitious for countries with vastly disparate levels of natural wealth and post-Soviet histories replete with missed political opportunity.
But analyst Lu notes that Beijing will have to take such concerns seriously if it wants to substantially improve cooperation with its Central Asian neighbors.
China In Central Asia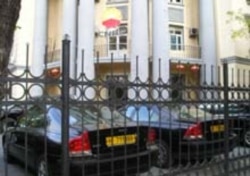 The Almaty,Kazakhstan, office of China's National Petroleum Corporation (RFE/RL)
BEIJING ON THE RISE:
The September 11, 2001, terrorist attacks against the United States prompted Washington to topple the Taliban regime in Afghanistan. At the time, many predicted the United States would gain a new foothold in Central Asia: new U.S. military bases appeared in Kyrgyzstan and Uzbekistan, U.S. foreign aid increased, and much U.S. attention was lavished on the region. Russia and China looked on warily. But the pendulum may be swinging back in Moscow's and Beijing's favor. China, especially, has expended great effort at winning friends in Central Asia and is becoming a force to be reckoned with
....(more)
RELATED ARTICLES
Turkmenistan-China Pipeline Project Has Far-Reaching Implications
Central Asia Looks To Fuel Asia's Economic Boom
The Geopolitical Game In Central Asia
ARCHIVE
To view an archive of RFE/RL's coverage of China, click here.

SUBSCRIBE
For weekly news and analysis on all five Central Asian countries by e-mail, subscribe to "RFE/RL Central Asia Report."