Aliyev made the comment today during a graduation ceremony of cadets in Baku at Azerbaijan's supreme military academy.

He said Azerbaijan was ready only to negotiate the restoration of its sovereignty over the disputed Armenian-majority enclave.

The failure of international mediation, the Azerbaijani leader said, was forcing him to change policy. He said Azerbaijan would retake Nagorno-Karabakh by whatever means it takes.

Aliyev warned Armenia that he would use Azerbaijan's rapildy expanding oil wealth to strengthen the armed forces.

(with material from AFP)
MORE: To read an interview with the new U.S. co-chair of the OSCE Minsk Group on prospects for resolving the Karabakh crisis, click here.

Unknown Victims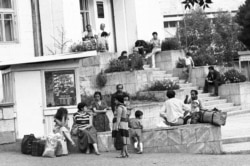 Ethnic Armenians displaced by fighting in Nagorno-Karabakh in the 1980s (Photolur)
HOW MANY MISSING? Well over a decade after conflicts in the South Caucasus froze, the International Committee of the Red Cross says new cases of missing people continue to emerge. Significant progress will, it fears, have to wait for final peace agreements.
Ethnic conflicts in the 1990s claimed tens of thousands of lives in the South Caucasus. Some 15 years later, many families are still searching for information about relatives who disappeared without a trace in the fighting.... (more)
RELATED ARTICLES
Frozen Conflicts Show Little Sign Of Thaw

South Caucasus Countries Discuss 'Frozen Conflicts,' Closer Ties
ARCHIVE
Click here to view archives of RFE/RL's coverage of the conflicts in Abkhazia, Chechnya, Kosovo, Nagorno-Karabakh, Ossetia, and Transdniester.

Click on the icon to view images of the Nagorno-Karabakh conflict (Flash required)