Speaking to RFE/RL in an exclusive interview, Steven Mann, the U.S. co-chair of the OSCE's Minsk Group, said that the presidents spoke for 2 1/2 hours on June 4. "There was a good atmosphere in the talks and again, a good atmosphere and a detailed discussion," he said.
The Minsk Group, which is co-chaired by the United States, Russia, and France, has been negotiating the conflict since 1992.
Russian Minsk Group co-chair Yury Merzlyakov said the fact that the presidents decided to meet was significant.
"Russia's position is that a settlement cannot be imposed on the two parties," Merzlyakov said. "They should reach it themselves, with the help of mediators. I think it is clear. The parties themselves bear the main responsibility for reaching a settlement."
The talks are the second time the presidents have met this year, after meeting in Rambouillet, near Paris, on February 10-11. Those talks failed to yield any agreement.
Peace Prospects
Predominantly ethnic-Armenian Nagorno-Karabakh seceded from Soviet Azerbaijan in 1988, triggering a six-year war that ended with a truce. Officially, the two countries are still at war.
Both presidents are under renewed pressure to reach a framework agreement on solving the Nagorno-Karabakh conflict by the end of this year.
Diplomats and observers have said that, with the absence of national elections in both countries, this year presents a good opportunity to reach a framework agreement.
Today, the Armenian and Azerbaijani presidents will both speak at the Black Sea Economic Cooperation Organization in the Romanian Parliament in Bucharest.
The Nagorno-Karabakh Conflict
The Nagorno-Karabakh Conflict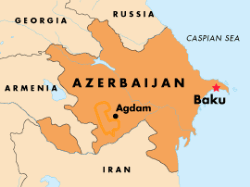 Click on the image to view an enlarged map of the Nagorno-Karabakh conflict zone

In February 1988, the local assembly in Stepanakert, the local capital of the Azerbaijani region of NAGORNO-KARABAKH, passed a resolution calling for unification of the predominantly ethnic-Armenian region with Armenia. There were reports of violence against local Azeris, followed by attacks against Armenians in the Azerbaijani city of Sumgait. In 1991-92, Azerbaijani forces launched an offensive against separatist forces in Nagorno-Karabakh, but the Armenians counterattacked and by 1993-94 had seized almost all of the region, as well as vast areas around it. About 600,000 Azeris were displaced and as many as 25,000 people were killed before a Russian-brokered cease-fire was imposed in May 1994.
CHRONOLOGY: For an annotated timeline of the fighting around Nagorno-Karabakh in 1988-94 and the long search for a permanent settlement to the conflict, click here.

Click on the icon to view images of the Nagorno-Karabakh conflict (Flash required)
To view an archive of all of RFE/RL's coverage of Nagorno-Karabakh,
click here.