The EU appeal comes on the United Nations' annual International Day in Support of Torture Victims.
UN Secretary-General Kofi Annan has called the observance a day to pay respect to those who have endured "the unimaginable," and a time for the world to speak up against "the unspeakable."
(AP)
MORE: In May, a man who says he was tortured in a secret prison in Chechnya run by the Russian secret services and the pro-Kremlin Chechen administration spoke with RFE/RL about his ordeal.
UN Human Rights Council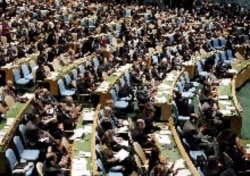 UN General Assembly delegates applaud the creation of the UN Human Rights Council on March 15, 2006 (epa)
A FRESH START ON HUMAN RIGHTS: The United Nations General Assembly on May 9 elected members to its new Human Rights Council, a step that reformers hope will help improve the United Nations' sullied record on defending human rights. The UN's old human rights watchdog -- the Commission on Human Rights -- had long been criticized for granting membership to countries with dismal human rights records, such as Cuba, Sudan and Zimbabwe.
Every member of the new body has to pledge to promote human rights. (more)
RELATED ARTICLES
General Assembly Votes To Create New Rights Council
Vote On Human Rights Council In Limbo Over U.S. Objections
At 60, UN Gripped By Debate on Human Rights Reform
SUBSCRIBE
For a regular review of civil-society developments throughout RFE/RL's broadcast region,
subscribe to "RFE/RL (Un)Civil Societies."