Tajiks Celebrate National Unity Day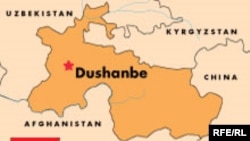 (RFE/RL) June 27, 2006 (RFE/RL) -- Tajikistan is celebrating its ninth annual Day of National Unity, a holiday that marks the signing of a 1997 peace deal that ended five years of civil war, RFE/RL's Tajik Service reported.
Nine years ago today, the Russian-backed Tajik government and representatives of the United Tajik Opposition, an armed coalition of mainly Islamic groups, signed the accord in Moscow.

Tens of thousands of people were killed during Tajikistan's civil war, and hundreds of thousands were displaced.

Tajik President Imomali Rakhmonov was due to attend some of today's holiday functions.
Tajikistan is the poorest of Central Asia's five post-Soviet republics.

(with material from ITAR-TASS)