Decommissioned Russian Submarine Sinks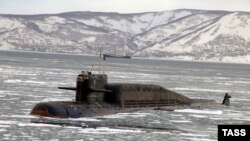 A nuclear-powered submarine of the Russian Pacific Fleet pictured off Kamchatka in March (ITAR-TASS) June 27, 2006 -- A decommissioned diesel-powered Russian submarine has sunk near the coast of the Kamchatka Peninsula in Russia's Far East.
No one was hurt in the incident.
The reasons for the incident were as yet unclear, but officials said the submarine may not have been properly sealed.
The submarine was decommissioned in 2003 and was being towed to China.
(NTV, AFP)