PRAGUE, June 27, 2006 (RFE/RL) -- Journalists who have seen the directive say it has no official stamp or signature. But sources claim it was shown to media representatives at the National Security Directorate on June 12 and distributed a week later with a warning against "publishing or copying" its contents.
The document contains at least 20 recommendations for the Afghan media -- including a ban on reports that "weaken public morale" or otherwise harm "the national interests."
Media are also instructed not to air or publish reports that "show weakness of our country's armed forces."
The directive also forbids criticism of the presence of foreign forces in Afghanistan -- including the U.S.-led coalition and NATO forces -- and bans interviews that run counter to the country's foreign policy.
Media are ordered not to lead their news with stories of antigovernment activities, including suicide attacks.
The document also says that mujahedins, who fought the Soviet occupation, should not be called "warlords" and Afghan technocrats who have returned from exile should not be described as "Westernized."
'Two Options'
The orders are regarded by many Afghan journalists as an intrusion on freedoms enshrined in the two-year-old constitution and the subsequent media law.
Fahim Dashty is a prominent journalist and the editor in chief of "Kabul Weekly." He tells RFE/RL that the government's new guidelines leave the country's independent media with little choice.
"In the meeting that was held almost a week before the distribution of the orders, I told security officials who were present that the guidelines give us two options -- either we should close our media, because following them would neutralize our media, or we should continue our work as it is now and you can do whatever you want," Dashty says.
The Afghan Constitution gives "every Afghan" the right to print or publish without prior official approval if they act under the law. It also states that any "directives relating to...mass media will be regulated by the law."
Legislator Ahmed Behzad, a former correspondent with RFE/RL's Radio Free Afghanistan, says he thinks the government overstepped its authority with the directive.
"This was probably the first action to restrict freedom of speech and media in Afghanistan," Behzad says. "Afghanistan's constitution clearly guarantees the freedom of the media. So far we have not had official press censorship, which is banned under the constitution and the press law. Unfortunately, this directive violates the constitution."
Troubling Times
The head of Afghanistan's Independent Journalist Association, Rahimullah Samander, claims the government's move is aimed at restricting independent media. Such news outlets have flourished since the fall of the Taliban regime some four years ago.
Samander notes that some media reports have been critical of the administration and security forces, especially in dealing with the country's deteriorating security situation.
The directive comes amid some of the worst violence the country has seen since the U.S.-led invasion to oust the Taliban in late 2001, and just weeks after rioting erupted in the capital following a deadly traffic accident involving a U.S. military vehicle.
Samander thinks the timing is no coincidence. But he says many of his colleagues feel the government's move threatens the future of press freedom and democracy in Afghanistan.
"[Authorities] want the press and other media to be at their service -- they want them to cover only their positive actions and keep secret their weaknesses and shortcomings," Samander says. "This is against democratic principles. Also, people expect journalists [to do their job], and journalists have a commitment to citizens."
President Defends Directive
The move has been strongly condemned by international rights groups -- including the U.S.-based Committee To Protect Journalists, Human Rights Watch, and Paris-Based Reporters Without Borders.
But on June 22, Afghan President Hamid Karzai brushed off such criticism. He said the government is merely trying to prevent the media from "legitimizing terrorism."
Karzai's office said in a statement that the government has simply asked local media to refrain from "glorifying terrorism or giving terrorists a platform."
The guidelines don't include penalties for media outlets that ignore the directive.
On June 22, Bakhtar news agency quoted Karzai's embattled culture minister, Seyed Makhdum Rahin, as saying that the document has no legal bearing and that journalists should not be concerned.
Dashty is among those journalists who hope that authorities refrain from strict enforcement of the directive.
"The government in many cases makes hasty decisions, [then] it becomes frustrated again, and [then] it somehow gives up on its decision," Dashty says. "This is another one of those cases. Currently, I don't think the government is really pressing for the orders to be followed. The majority of journalists believe the orders should not be followed, but it is still not clear what the consequences will be."
In its condemnation of the Afghan government's perceived "censorship," Human Rights Watch warned on June 22 that Afghan journalists feel intimidated by the directive and fear an adverse effect on reporting.
Press Under Assault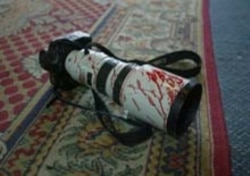 (AFP)
BREAKING THE NEWS: Press freedom is under assault in virtually all of the countries of the former Soviet Union. Independent media confront enormous challenges in providing citizens with the independent information that can help advance democratic reforms. On May 2, RFE/RL's Washington office hosted a roundtable briefing that gave an overview of media developments in the CIS and discussed the connections between press freedom and future democratization. The briefing featured Freedom House Director of Studies CHRISTOPHER WALKER, American University Associate Research Professor ROBERT ORTTUNG, and RFE/RL Central Asia analyst DANIEL KIMMAGE.
LISTEN
Listen to the entire briefing (about 90 minutes):
Real Audio Windows Media
RFE/RL's Press Freedom Day stories:
Iraq: Covering The Most Dangerous Beat On Earth
Afghanistan: Women In Journalism Battle Restrictions, Threats
Iran: State Maintains Tight Control Over Information
CIS: Press Freedom In Former Soviet Union Under Assault
Central Asia: Bureaucratic Obstacles Hinder Journalists
Central Asia: Governments Wary Of Independent Media
Central Asia: Journalists Still Face Harassment, Threats

THE COMPLETE STORY: To view an archive of RFE/RL's coverage of media-related stories, click here.
SUBSCRIBE
For regular news and analysis on media issues throughout RFE/RL's broadcast area by e-mail,
subscribe to "RFE/RL Media Matters."