The United States and the United Nations have already condemned the killings of the four Russian diplomats, who were taken hostage by militants in Iraq.
The four, employees of Moscow's embassy in Baghdad, were abducted in the Iraqi capital on June 3. Their executions were later shown in a videotape with claims from a terror group that the diplomats were killed as a gesture of solidarity with the Islamic fighters in the Russian breakaway province of Chechnya.
Looking For Solidarity
Konstantin Dolgov, Russia's deputy ambassador to the UN, told RFE/RL on June 27 that Russia had already distributed the draft to the other members of the Security Council, and that he expected a vote on June 28.
"We are counting on support [in the Security Council]," Dolgov said. "We introduced the draft of the statement with regard to the [council's president's] statement about this shocking event. We are counting on support in the Security Council."
Earlier, Russia Foreign Minister Sergei Lavrov said responsibility for the killings lay with the Iraqi government and with the coalition forces. But Dolgov said that references with regard to responsibility were not included in the draft.
"The substance of the statement is that we strongly condemn this action and that we stress the importance for the government of Iraq and the multinational forces to initiate the necessary steps to guarantee the safety of diplomatic personnel," Dolgov said. "The Security Council reaffirms its determination to fight against terrorism in accordance with the Security Council Resolution 1373."
Should Pass Quickly
Emyr Jones Parry, Britain's ambassador to the UN, told RFE/RL he'd had informal discussions with his Russian counterpart and that they would try to pass the statement to the Security Council as quickly as possible.
"I've been discussing it with them, I'm very supportive of what they want to do and where, making suggestions as to how we can do this very quickly," Parry said. "We're looking at a possible text which will express the [Security] Council's views on what has happened and if we can do that quickly I'll be very pleased."
The Russian Foreign Ministry said earlier on June 27 that the embassy workers had become victims of a "rampage of terror."
MORE: For coverage of this topic in Russian from RFE/RL's Russian Service, click here.
The International Coalition In Iraq
The International Coalition In Iraq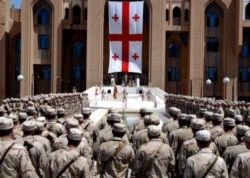 Georgian soldiers marking Georgian Independence Day in Baghdad on June 6 (epa)
COALITION MEMBERS: In addition to the United States, 28 countries are Multi-National Force-Iraq (MNF-I) contributors as of May 31, 2006: Albania, Armenia, Australia, Azerbaijan, Bosnia-Herzegovina, Bulgaria, the Czech Republic, Denmark, El Salvador, Estonia, Georgia, Italy, Japan, Kazakhstan, Latvia, Lithuania, Macedonia, Moldova, Mongolia, the Netherlands, Poland, Portugal, Romania, Singapore, Slovakia, South Korea, Ukraine, and the United Kingdom. Fiji is participating as part of the UN mission in Iraq. Hungary, Iceland, Slovenia, and Turkey are NATO countries supporting Iraqi stability operations but are not part of MNF-I.
NON-U.S. MILITARY PERSONNEL IN IRAQ: United Kingdom, 8,000 as of May 26, 2006; South Korea, 3,237 as of May 9, 2006; Italy, 2,900 as of April 27, 2006; Poland, 900 as of May 30, 2006; Australia, 900 as of March 28, 2006; Georgia, 900 as of March 24, 2006; Romania, 860 as of April 27, 2006; Japan, 600 as of May 30, 2006; Denmark, 530 as of May 23, 2006; All others, 1,140.
(Source: The Washington-based Brooking Institution's Iraq Index of June 15, 2006)


THE COMPLETE STORY: RFE/RL's complete coverage of events in Iraq and that country's ongoing transition.
RADIO FREE IRAQ: To visit the Arab-language website of RFE/RL's Radio Free Iraq, click here.