PRAGUE, June 28, 2006 (RFE/RL) -- Secretary Rice's mission comes at an important moment for the Karzai government.

She is seeking to reassure the Afghan leader of U.S. and Western support as violence continues to escalate in the south.
[INTERVIEW: To read an RFE/RL exclusive interview with Secretary Rice following her meeting with Karzai today, click here.]

"Our support for [Afghan] President [Hamid] Karzai is deep and strong and lasting," State Department spokesman Adam Ereli stressed ahead of Rice's visit. "Secretary [Rice] will be going there to continue our broad and effective engagement with Afghanistan to help strengthen democracy, the rule of law, stability, security, and prosperity in that country."

In Kabul, Rice spoke to reporters about the universality of the terrorist threat, saying that each country has an interest in combating such extremists.

"We have a situation in which all of these countries -- including, by the way, the United States -- are threatened by the same enemy, and we need to stay focused on that," Rice said. "The same people who destroyed Afghanistan and then harbored the terrorists who attacked New York are the same people who have tried to kill [Pakistani] President [Pervez] Musharraf, the same people who are still attacking innocent Afghans."

Pakistani-Afghan Cooperation

Rice was expected to try to persuade Karzai to improve his chilly relations with neighboring Pakistan, and to cooperate more effectively with President Pervez Musharraf on controlling Afghan insurgent activity in the chaotic Pakistani tribal territories.

Rice arrived from Islamabad, where on June 27 she praised both Pakistan and Afghanistan as "fierce fighters on the war on terror." Rice said she realizes the problems those two South Asian neighbors are facing.

"This is a very difficult time for both Afghanistan and Pakistan," Rice said. "There are attacks by these terrorists against both of these countries, and I think they are united in wanting to defeat them."

She urged President Musharraf to increase cooperation with Afghanistan to root out alleged Taliban bases in Pakistan's border tribal region. Kabul has accused Islamabad of not doing enough to control the tribal territories.

That was challenged by Pakistani Foreign Secretary Khurshid Kazuri. He said that if Afghan authorities know where Taliban and Al-Qaeda elements are hiding, they should pass on that information to Pakistan.

Defusing Criticism

In Kabul, Rice was also expected to seek to defuse Karzai's criticism of the death rate among Afghan civilians as a result of the military operations by U.S.-led coalition forces chasing Taliban fighters.

NATO-led British forces now deploying in greater numbers in the troubled south say they will use a gentler hand in an attempt to win the confidence of the population there. But that is thrown into doubt as the insurgents employ increasingly deadly methods.

In the latest fatalities, two British soldiers were killed in fighting in the southern Helmand Province on June 27. In Konduz Province to the north, a suspected suicide car bomber blew up his vehicle near a German convoy, killing two civilians and wounding eight others, four of them children.

At the press conference with Rice today, Karzai expressed optimism for the future, saying his country will not give up the fight.

"So, when we speak of success [for Afghanistan], it doesn't mean that we are forgetting the problems," Karzai said. "We are continuously working reforms to make this country better and better and to free the world from terrorism that we are still fighting."

Rice was expected to end her brief visit to Afghanistan today, then fly to Moscow, where she is expected to attend a ministerial meeting of the Group of Eight (G8) leading industrial countries.
Saving Afghanistan's Heritage
Saving Afghanistan's Heritage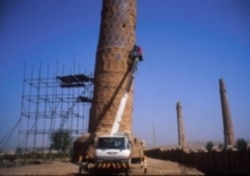 A UNESCO team working to stabilize Herat minarets in 2003 (UNESCO)

THE MINARETS OF HERAT: In Afghanistan's leafy western city of Herat, a two-lane road slices between the city's five remaining 15th-century minarets. Every truck, car, bus, motorcycle, and horse-drawn carriage that passes by sends vibrations coursing through the delicate structures.
In particular, the Fifth Minaret -- all 55 meters of it -- seems ready to collapse into a dusty heap of bricks and colored tiles at any moment. A large crack near its base makes drivers speed up just a little as they pass by....(more)



Click on the image to view an audio slideshow of this story by RFE/RL correspondent Grant Podelco.



RELATED ARTICLES
Afghanistan Protects Storied Bactrian Treasure
Archeologist Hunts For Third Bamiyan Buddha
Musicians Struggling To Revive Classical Heritage After Taliban
ARCHIVE
To view RFE/RL's complete coverage of Afghanistan,
click here
.

SUBSCRIBE
For weekly news and analysis on Afghanistan by e-mail, subscribe to "RFE/RL Afghanistan Report."