HRW Urges Bush To Raise Georgia Concerns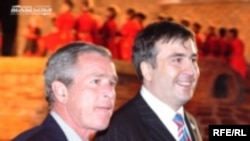 Bush (left) with Saakashvili on a visit to Georgia in May 2005 (RFE/RL) NEW YORK, July 1, 2006 (RFE/RL) -- Human Rights Watch (HRW) is urging U.S. President George W. Bush to raise concerns over human rights in Georgia when he meets his Georgian counterpart Mikheil Saakashvili in Washington next week.
Holly Cartner from the U.S.-based group said the Bush administration pointed to Georgia as a hopeful model for change.

But she said there were warning signs of backsliding on human rights in the country, which the group outlined in a letter to Bush.

It said some practices -- such as the more frequent use of force by police -- ran counter to Georgia's international human rights commitments.

Saakashvili is due to meet Bush on July 5.