PRAGUE, July 3, 2006 (RFE/RL) -- Akbar Ganji reiterated his call for Iranian officials to release Ramin Jahanbegloo, Mansour Osanloo, and Ali Akbar Moussavi Khoeini during an interview with Radio Farda on June 30 while he was in Germany.
Ganji said that Osanloo and Moussavi Khoeini represent Iran's intellectual, workers', and student movements whose members, he says, have been under pressure.
Iranian Intelligence Minister Gholam Hossein Mohseni Ejeie said on July 2 that Jahanbegloo is one of the people who was arrested "in line with the U.S. effort to instigate a velvet [or] soft revolution in Iran."
Threatens International Hunger Strike
He said they should be freed and he has called on all freedom-loving Iranians and human rights defenders to join him.
"We've called on the regime to free these three prisoners immediately," he said. "If they will not be freed soon, I have planned with some friends a hunger strike against the Iranian regime in England, in France, in Germany, in the U.S. and across the world to bring the world's attention to the vast human rights violations in the Islamic Republic of Iran."
Ganji -- one of Iran's most prominent investigative journalists -- was freed in March after spending more than five years in prison because of his critical articles.
During his jail term he remained defiant and on at least two occasions he went on a long hunger strike to protest his conditions.
Speaking Out Against Rights Violations
Ganji has been on a European tour for the last month and has condemned human rights abuses in Iran wherever he speaks.
"Iran's Islamic regime is continuing its political repression and human rights violations like before," he said. "One of the tools for political repression are arbitrary and illegal arrests. They arrest people because of their opinions and because of dissent."
Ganji noted that many human rights activists and intellectuals have called for the release of Jahanbegloo, Moussavi Khoeini, and Osanloo.
He added that since Iranian authorities have not paid attention to these calls, a general hunger strike seems to be the only way to press for their release.
In recent weeks several separate statements have been issued by activists and intellectuals in protest of the detentions of the three men.
In the case of Jahanbegloo, personalities such as Nobel Peace Prize laureate Shirin Ebadi, Nobel Literature Prize winner J.M. Coetzee, acclaimed Italian writer Umberto Eco, and prominent historian and author Timothy Garton Ash have joined the call for his release.
An Agent For Washington?
Jahanbegloo is a well-known philosopher who has published several books in French, English, and Persian on issues as ranging as intellectual thought in Iran and Indian leader Mahatma Gandhi and his nonviolent resistance.
He has been detained since April 27 without access to a lawyer.
Iranian Intelligence Minister Gholam Hossein Mohseni Ejeie said on July 2 that Jahanbegloo is one of the people who was arrested "in line with the U.S. effort to instigate a velvet [or] soft revolution in Iran."
Some of Jahanbegloo's colleagues and friends have expressed concern that he could be under pressure to make forced confessions.
This method has been used -- though largely unsuccessfully -- by Iran in the past to discredit critics.
There is also growing concern about Moussavi Khoeini, who was arrested in Tehran during a June 12 women's rights gathering.
Seventy men and women were arrested for attending the protest against legal gender discrimination. All have been freed except for Moussavi Khoeini.
Former legislator Fatemeh Haghighatjoo tells RFE/RL that Moussavi Khoeini's case is being reviewed by the hard-line revolutionary court.
Worry Over Other Two Activists
"This is a matter of concern because it is possible that they will bring new charges against him such as espionage or toppling the regime," he said. "During his term in the parliament he worked hard for the closure of secret and illegal prisons; he also defended the rights of political prisoners. These are among issues that can lead to new cases against him especially because he has been a defender of student rights and also the rights of women and workers."
Human rights activists are also worried about the fate Osanloo, the president of the Syndicate of Workers of the Tehran Bus Company.
He has been in jail since last December on unspecified charges. He reportedly helped organize demonstrations against bus drivers' work conditions.
On June 30, the student website advarnews.com reported that student leader Abdollah Momeni welcomes Ganji's call for the release of Osanloo and other prisoners.
Momeni is quoted as saying that Ganji's resistance while imprisoned provides a lesson for all Iranians who are longing for a change.
He added: "I think students and those close to the students have the capacity to express their readiness for a protest."
Iran's most prominent living poet, Simin Behbahani, has also expressed support for Ganji's initiative.
Behbahani told Radio Farda that any action that would lead to the release of Iran's political prisoners is "necessary."
(Radio Farda correspondent Nazi Azima contributed to this report.)
U.S. Report On Global Human Rights
U.S. Report On Global Human Rights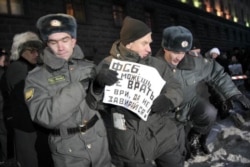 Police in Moscow arrest human rights demonstrators on February 1 (courtesy photo)
THE RECORD ON RIGHTS: On March 8, the U.S. State Department issued its global report on human rights. According to the report, 15 years after the breakup of the Soviet Union, human rights are improving in many post-communist countries. But problems persist in others, it says, despite the worldwide explosion of information and Western efforts to spread democracy. (more)
For more detailed information, see:
Azerbaijan Cited For Political Harassment, Police Brutality
Child Labor, Human Trafficking Cited In U.S. Report On Afghanistan
U.S. Says China, Iran 'Most Systematic' Rights Violators
Human Rights Not A Priority In Central Asia, U.S. Report Says
U.S. Report Points To Serious Abuses In Iraq
Abuses In Chechnya, Centralized Power Cited In U.S Report On Russia
U.S. Says Serious Human Rights Violations Occurring In Iran



SUBSCRIBE
For a regular review of civil-society developments throughout RFE/RL's broadcast region,
subscribe to "RFE/RL (Un)Civil Societies."