Over the past 15 years, the adoption of laws similar to the FOIA in countries throughout Eastern Europe and the former Soviet Union has formed part of the process of "democratization." Countries such as Armenia, Georgia, Moldova, Ukraine, and Romania have adopted their own versions of freedom-of-information legislation, but in many cases, such as in Uzbekistan and Tajikistan, the laws are not observed or enforced.
RFE/RL correspondent Julie A. Corwin asked Steven Aftergood, director of the Project on Government Secrecy at the Federation of American Scientists in Washington, D.C., to explain how the FOIA works.
RFE/RL:
What is the Freedom of Information Act?
Steven Aftergood:
FOIA is the law that gives a person a legal right to government information. Until the Freedom of Information Act was enacted in 1966, you could ask the government to provide you information, but there was no legal obligation for them to provide it. And so FOIA basically gives an individual -- any person -- a legally enforceable right to demand government information. And that's an extraordinary thing. It is part of what makes the government responsive to the public, and it's part of what constitutes a democracy.
RFE/RL:
Why was it considered necessary?
Aftergood:
It was a product of the times, namely the continuing turmoil associated with the Vietnam War, growing public skepticism, and a feeling that the government needed to do more to make itself accountable to the general public.
RFE/RL:
How complicated is the process? Could anyone file a FOIA request? Or do you need to be a lawyer?
Aftergood:
It is intended to be used by ordinary people. And it is in fact remarkably easy to use. You don't have to be a lawyer. You don't need a lawyer. There are a few rudimentary things you need to know. One is you have to have an idea of what it is you are looking for. And, of course, the more specific you can be the easier it will be to fulfill the request.
Two, you need to know who is likely to have what you are looking for. Which agency of our vast government is likely to hold the document? And then you need to know how to contact that agency. That information is all fairly readily available. There are even websites that assist people in crafting a letter and finding who to send it to.
RFE/RL:
How long does the process take?
Aftergood:
That is one of the major shortcomings of the act. In many cases, it can take months or years to get a response. A lot depends on the complexity of the request. If you are looking for a very specific document that is releasable because it doesn't contain classified, [private], or other exempted types of information, then a response may be forthcoming fairly promptly.
RFE/RL:
Is it possible to file a FOIA request with the CIA or Federal Bureau of Investigation?
Aftergood:
You can. And not only that, you can sue them, which I have done on four occasions now. One of the extraordinary things about the Freedom of Information Act is that it gives a private individual the legal standing to sue the Central Intelligence Agency, to take the agency to court.
Now, you cannot often win against them. You cannot often compel them to disclose information that they do not wish to disclose. But you can compel them to explain to a judge why they should not have to. And that is a remarkable feature of this law.
RFE/RL:
Why did you sue them? Did you win?
Aftergood:
All of my lawsuits against the CIA involved requests for disclosure of the intelligence budget. I wanted to know how much the total [annual] intelligence budget was. And the first time I sued, I actually won. In 1997, the CIA agreed to disclose the fact that the total intelligence budget was $26.6 billion that year. I didn't get a ruling from the judge forcing the CIA to disclose the information, but after I took them to court, they agreed to disclose it.
RFE/RL:
Can you make your request anonymous?
Aftergood:
It is not a legal obligation as much as a practical obligation. You know, it is possible to hire agents who will file a request on your behalf. It's not that the government wants to know or needs to know who is asking for the information, but they need to be able to contact you to provide a response. And if your request goes beyond a certain threshold, an agency is entitled to request payment to process the request. So for that reason they need to know, if not who you, then somebody that they can contact.
RFE/RL:
What kind of processing costs are you talking about? Photocopying?
Aftergood:
Both search and copying costs can be charged for unless the requestor can make an argument that there is a public interest to be served by the disclosure and that the requestor is capable of disseminating the information in a way that will further the public interest. So for example, most media requestors are routinely granted a public-interest fee waiver, as are many nongovernmental organizations.
RFE/RL:
Do other countries have laws like the Freedom of Information Act?
Aftergood:
There are over 40 countries that have some version of a freedom-of-information law. Sweden's law dates back 200 years. They, for their own peculiar cultural reasons, made this a priority long before anyone else.
RFE/RL:
Which country has the best practice?
Aftergood:
That's an interesting question. It's a difficult one to answer. You know, the answer depends on what the criteria are for assessing [the law]. But in terms of the size of the infrastructure for processing requests, the number of requests received, and the amount of material disclosed, I think the United States -- with all of its flaws -- is likely to be the most ambitious and the most productive. No other countries release more [information] about [their] national security, defense, and foreign relations than does the United States.
RFE/RL:
Has the United States been consistent over the years in implementing FOIA?
Aftergood:
While the principle of freedom of information has spread by leaps and bounds around the world, it is somewhat on the retreat here in the United States. That is because classification has grown sharply under the Bush administration. According to the latest statistics, more than 14 million new classification actions were performed in 2005, which is a very large number. More than that, there are new controls on unclassified information that limits their disclosure and dissemination.
Press Under Assault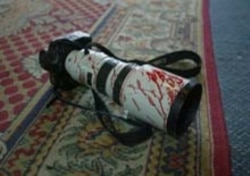 (AFP)
BREAKING THE NEWS: Press freedom is under assault in virtually all of the countries of the former Soviet Union. Independent media confront enormous challenges in providing citizens with the independent information that can help advance democratic reforms. On May 2, RFE/RL's Washington office hosted a roundtable briefing that gave an overview of media developments in the CIS and discussed the connections between press freedom and future democratization. The briefing featured Freedom House Director of Studies CHRISTOPHER WALKER, American University Associate Research Professor ROBERT ORTTUNG, and RFE/RL Central Asia analyst DANIEL KIMMAGE.
LISTEN
Listen to the entire briefing (about 90 minutes):
Real Audio Windows Media
RFE/RL's Press Freedom Day stories:
Iraq: Covering The Most Dangerous Beat On Earth
Afghanistan: Women In Journalism Battle Restrictions, Threats
Iran: State Maintains Tight Control Over Information
CIS: Press Freedom In Former Soviet Union Under Assault
Central Asia: Bureaucratic Obstacles Hinder Journalists
Central Asia: Governments Wary Of Independent Media
Central Asia: Journalists Still Face Harassment, Threats

THE COMPLETE STORY: To view an archive of RFE/RL's coverage of media-related stories, click here.
SUBSCRIBE
For regular news and analysis on media issues throughout RFE/RL's broadcast area by e-mail,
subscribe to "RFE/RL Media Matters."