Akbar Ganji told journalists in Moscow today that he is determined to keep up his struggle for "democracy and human rights," and that "I will return to Iran, [and] I will continue to express my critical views regarding all issues."
Ganji spent the past six years in prison for articles implicating senior Iranian officials in the deaths of intellectuals and dissidents. He was released in March, and was in Russia to accept the
World Association of Newspapers' Golden Pen of Freedom award
.
Ganji has challenged the legitimacy of Iran's Islamic establishment. He has also said that democracy cannot be achieved under the country's current political system.
Necessary Sacrifice
Today he conceded that he might well face imprisonment again, but he called it the price one must pay "for democracy, freedom, and human rights." He also suggested that other critics of the Iranian establishment have been under even greater pressure than he has.
"I don't have much to say about my prison term, because in Iran there are people who faced a worse situation than me," Ganji said. "Some of our intellectuals were murdered in an organized manner; some were murdered in prisons. My dear friend, [journalist Said] Hajarian is now paralyzed as a result of an assassination attempt. Several million Iranians have been forced into exile -- they live in Europe and America. I think they have paid a heavier price than me."
Combating 'Militarization'
He is clearly unafraid of wading into the political thick of things -- or of adopting controversial stances. Asked about the international
dispute over Iran's nuclear program
, Ganji called it the duty of all intellectuals to oppose the "militarization" of the world, although it might seem a "far-fetched" goal.
He said intellectuals should also condemn governments that move in that direction.
"I'm not an official with secret information or knowledge of who is telling the truth [about the nuclear issue]," Ganji said. "As a journalist, not only do I not support Iran having nuclear weapons, but I also want other countries that have atomic weapons to be disarmed. By no means do we want a confrontation between Iran, the West, and the U.S. We journalists and intellectuals bring the voice of peace from Iran to the world. And we also believe that the Iranian government should be transparent."
...And Demanding Information
Ganji argued that Iranian officials -- first and foremost -- should be forthcoming toward their fellow citizens. Iranians have a right to know what is going on with the nuclear issue, he insisted.
"Intellectuals and journalists and Iranians should have the right to express their critical views regarding the government's nuclear project," Ganji said. "Unfortunately, today in Iran, [authorities] do not allow any [criticism] of the nuclear issue to be published. It is as if there were only one voice in Iran regarding this issue, and that is the voice of the government. But this is not the case; in fact, many of our intellectuals and academics disagree with the government's nuclear policies."
Ganji said the situation has worsened in recent months. He cited increased censorship of journalists, book bans, and increased state pressure
targeting dissidents, academics, and students
.
Seeking Moral Support
But he also stressed that his criticism of the Iranian leadership does not translate into automatic support for actions against it.
"In any case, we should support our country," Ganji said. "I am against the Iranian government and its policies. This is one thing. But it is a different thing to call for the destruction of my own country. If a confrontation like that in Iraq happens in Iran, it could ruin my country. No Iranian desires such a thing. We oppose the Iranian government, and we fight against it. But we will do it by ourselves. What we need is the moral support of civil-society institutions around the world."
He went on to warn that democracy cannot be imposed on his country by force. "We have to establish democracy in Iran," Ganji said. "Democracy cannot be brought from outside. We have to do our best -- [to] struggle to make our country democratic."
(RFE/RL Tajik Service Moscow correspondent Rasul Shodiev contributed to this report.)
What The Street Thinks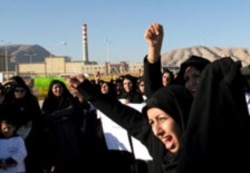 A demonstration in support of Iran's nuclear program outside the Isfahan uranium-conversion facility in Isfahan in January (epa)

IRANIANS SPEAK OUT ON THE DISPUTE: To find out more about what Iranians think about the international controversy over their country's nuclear program, RADIO FARDA asked listeners to express their views....(more)
See also:
Iran: Public Has Mixed Feelings On Nuclear Issue

THE COMPLETE PICTURE: RFE/RL's complete coverage of controversy surrounding Iran's nuclear program.
CHRONOLOGY
An annotated timeline of Iran's nuclear program.