Moroz Elected Speaker Of Ukrainian Parliament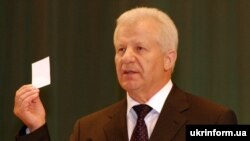 Oleksandr Moroz, the new speaker of the Ukrainian parliament (file photo) (Ukrinform) July 7, 2006 -- The leader of Ukraine's Socialist Party, Oleksandr Moroz, has been elected speaker of the Verkhovna Rada, Ukraine's parliament.
Moroz won 238 votes on the night of July 6 in the 450-seat assembly with support from the pro-Russian Party of Regions and the Communists.
Moroz said he would work to defuse tensions within the Ukrainian parliament, which he described as "artificially created."
He said he is sure "we can bring together those who see themselves as the victors and those who see themselves as the vanquished."
Analysts say Moroz's election is a blow to President Viktor Yushchenko and could jeopardize a prospective government coalition made up of supporters of the 2004 Orange Revolution.
The vote came after Ukraine's pro-Russian opposition ended a 10-day blockade of parliament. Under the agreement that ended the protest, the opposition appear likely to chair just under half the committees and possibly more.
ANALYSIS: To read an RFE/RL news analysis of these developments, click here.

RFE/RL Belarus, Ukraine, And Moldova Report

SUBSCRIBE For weekly news and analysis on Belarus, Ukraine, and Moldova by e-mail,
subscribe to "RFE/RL Belarus, Ukraine, And Moldova Report."