Blasts Near Baghdad Mosque Kill At Least 15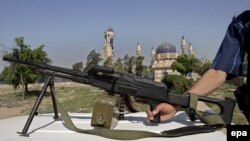 Members of the Iraqi security forces outside the Um Al-Qura mosque in Baghdad (file photo) (epa) July 9, 2006 -- At least 15 people were killed and 35 were wounded today when two car bombs went off near a Shi'ite mosque in a Sunni district of the Iraqi capital, Baghdad.
Police said the bombings took place in the Qasra neighborhood of the largely Sunni district of Al-Adhamiyah.
The bombings came just hours after at least 42 people, mostly Sunni Arabs, were massacred by roving bands of masked gunmen in another Sunni neighborhood of Baghdad.
Iraqi President Jalal Talabani, a Sunni Kurd, said in a statement issued on July 9 that sectarianism could send Iraq down a very deep and dangerous slope. He called on Iraqis to avoid knee-jerk reactions, which he said could only lead to pain and regret.
(Reuters, AFP, AP)

SUBSCRIBE For weekly news and analysis on Iraq by e-mail,
subscribe to "RFE/RL Iraq Report."