WASHINGTON, July 10, 2006 (RFE/RL) -- Minister Spanta said recently that the approach is based on three elements that Kabul views as crucial in the battle against terrorism.

First, he said, counterterrorism efforts should concentrate on centers of ideological and military training of terrorists and their financial resources -- all of which he described as being outside Afghanistan.

Second, terrorists should be confronted inside Afghanistan in a sustained manner similar to the current Operation Mountain Thrust in southern Afghanistan. Spanta said a rapid-deployment capability should be maintained alongside military operations to allow security forces to hold on to areas that they clear of terrorist activities.

He said the third component involves reconstruction once areas are free of the terrorist threat.
The second and third points in that strategy offer nothing new. They are simply in line with the current counterterrorism strategy of the U.S.-led coalition, which is spearheading the operation to which Spanta alluded in four southern provinces.
Troubles With The Neighbor

What is notable in the new Afghan strategy is the primacy of the focus on external factors.

Speaking at the Washington-based Center for Strategic and International Studies (CSIS) on July 6, Spanta avoided blaming any single country for the ideological and military training of terrorists or their financing. But in the ensuing discussion, he left little doubt that Kabul views Pakistan as the main center for terrorists operating in Afghanistan.

Officials in Kabul have been pointing their fingers at Pakistan for some time, accusing Islamabad or intelligence services of turning a blind eye to cross-border terrorism targeting the Afghan central government. Many observers remain convinced that much of the former Taliban regime's leadership -- along with leaders of Al-Qaeda -- are operating in the lawless Afghan-Pakistani border region.
The Karzai administration is appealing to its foreign backers, in effect pleading that they stop Pakistan from meddling in Afghan affairs.


An unprecedented upsurge in violence in Afghanistan has recently spread far beyond regions near the border with Pakistan. Attacks have reached the normally more secure northern areas of Afghanistan. Criticism of President Hamid Karzai's administration has spread, too.
Not Unprecedented

Kabul's response appears to suggest that all of Afghanistan's ills have originated in Pakistan. The new counterterrorism strategy implies that many problems will continue unless Pakistan stops its support of terrorists and other "enemies of peace and security" in Afghanistan. But it also concedes that Kabul is powerless to force such cooperation on Islamabad.

So the Karzai administration is appealing to its foreign backers, in effect pleading that they stop Pakistan from meddling in Afghan affairs.

While powerless to force Pakistan to abide by its wishes, Afghanistan has done little recently to foster mutual understanding between two neighbors who have had an uneasy coexistence since Pakistan was established as a state nearly 60 years ago.

One of Afghanistan's first political gestures toward its new neighbor was a demand for self-determination for Pashtun and Baluchi tribes on the Indian subcontinent. The dispute over what came to be known as the "Pashtunistan" problem led to Afghanistan casting the lone vote against Pakistani admission to the United Nations in 1947.

Pakistani policy has long sought to prevent the rise of nationalism among Pashtuns -- on either side of the Afghan-Pakistani border. To achieve that goal, Islamabad has tried to infuse Islamism as a counterbalance to nationalism within its own Pashtun population, as well as among Pashtuns across the border in Afghanistan with the help of proxies like the Taliban.

Responding to a question from RFE/RL following his July 6 speech on whether a softer stance by Kabul on a long-standing border dispute might not have a favorable effect on Islamabad's treatment of the neo-Taliban, Spanta rejected any link between the "problem of terrorist attacks" in Afghanistan disagreement over the so-called Durand Line.

Echoing the policies of Afghan governments from the 1950s to the 1980s, Spanta called the Durand Line an Afghan "national issue" that lies beyond his authority as foreign minister. But in the next breath, Spanta signaled a potential link between cross-border counterterrorism efforts by Islamabad and Kabul's own calls for self-determination for Pashtuns in Pakistan. Spanta said that once terrorist activities cease, Kabul is ready to discuss "everything" with Islamabad.
Not Without Blame

Kabul is arguably justified in making a priority of a counterterrorism strategy that targets assistance for terrorists. And the Karzai administration's finger pointing at Pakistan over its approach to neo-Taliban fighters on its territory is perhaps understandable.

But Afghan officials should be aware that their current policies toward Pakistan -- in particular concerning the apparent resuscitation of the "Pashtunistan" issue -- are unlikely to deter Islamabad from maintaining options that allow Islamabad to pressure Kabul to stop meddling in Pakistani affairs.

Afghanistan needs international support to pursue its counterterrorism strategy, but Kabul also must be proactive in doing its part.
Suicide Attacks In Afghanistan
Suicide Attacks In Afghanistan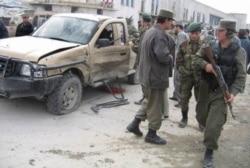 The results of a suicide-bomb attack in Kandahar Province on January 16 (epa)
Suicide bombers have struck more than two dozen times in Afghanistan since neo-Taliban and Al-Qaeda insurgents appear to have stepped up use of such attacks following the provincial and national elections of September 2005. While sporadic until recent months, suicide bombings have killed at least 90 people in Afghanistan since late 2001 -- including the attack in the days leading up to 9/11 that left legendary Afghan mujahedin commander Ahmad Shah Mas'ud dead. For an overview of suicide attacks in Afghanistan dating back to 2001, click here.