PRAGUE, July 11, 2006 (RFE/RL) -- With Basayev dead, the Kremlin is claiming an important victory.
And in Chechnya, Alu Alkhanov, the province's pro-Moscow president, was quoted by the Interfax news agency as saying that Basayev's death "can be considered the date of the logical end of the fight against illegal armed formations."
Policy Change Unlikely
Russian journalist Anna Politkovskaya has extensively covered the Chechen conflict. She says that the Kremlin will claim Basayev's death is a great victory and will continue with its previous course on Chechnya: "This figure [Basayev] is gone, but it will not change the policy [of the Kremlin.] I think that now or after some time, they will announce that there is completely no one to talk with [in Chechnya], even [they will say] hypothetically, because there is simply no one to talk with and the resistance does not exist."
Nicholas Redman of the Economist Intelligence Unit in London agrees. He doesn't think the Kremlin will start negotiations: "I will be very surprised if that's the case [and the Kremlin starts negotiations.] It wasn't simply Basayev. There hasn't been much indication from the Kremlin up to now of any willingness to negotiate. I don't see that Basayev's death will change anything."
Nikolai Petrov, a specialist in Russian politics at the Moscow Carnegie Center, says Basayev's death is unlikely to change the Kremlin's policy toward Chechnya as it seems that, for now, that policy is working.
However, despite that, Petrov says that Basayev's death isn't such a big victory. He says the rebel commander was just a symbolic figure in fractured separatist movement.
Latest Separatist Death
Basayev is the latest in a line of separatist leaders to be eliminated by Russian forces.
Last month, Russian security forces killed the separatist president, Abdul-Khalim Sadulayev. Sadulayev had succeeded Aslan Maskhadov as leader in March 2005 after Maskhadov was killed in an exchange with Russian security forces.
Putin's comments on July 10 seem to confirm that the Kremlin is determined to solve the conflict only by force.
"You and I know very well that the terrorist threat is still very high and we should under no circumstances weaken our operations in this area but, on the contrary, intensify them and improve the effectiveness of all actions that we take in this area," Putin said.
Chechen Resistance
So, according to most observers, the current situation will largely stay the same.
That's a sentiment shared by some members of the Chechen resistance.
Akhmed Zakayev, the Chechen separatist foreign minister who lives in London, says the killing of Basayev "will in no way" change the situation in Chechnya.
And radical Chechen ideologist Movladi Udugov said in a written statement published on the Kavkazcenter website that "Chechen fighters will continue their 'jihad' against Russian forces" following the death of Basayev.
Shamil Basayev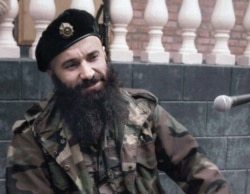 Shamil Basayev in September 1999 (epa)

MASTERMIND OF BUDYONNOVSK, BESLAN: Radical Chechen field commander Shamil Basayev waged a 15-year campaign against Russian control of Chechnya, including masterminding some of the most audacious terrorist acts the world has ever seen. Below are links to some of RFE/RL's reporting about Basayev in recent years.
RELATED ARTICLES
The Rise Of Russia's 'Terrorist No. 1'
Is Basayev Planning To Torpedo The Russian-Chechen Power-Sharing Treaty?
Basayev Rejoins Chechen Rebel Government
Basayev Says He Helped Plan Nalchik Raid
Basayev Says Beslan Raid Prompted By FSB Sting
Moscow Says It Will Punish U.S. TV Network Over Basayev Interview
Budyonnovsk Marks 10th Anniversary Of Terrorist Raid
Look Back In Anger -- Ten Years Of War In Chechnya
CHRONOLOGY
An
annotated timeline
of the conflict.

ARCHIVE
RFE/RL's complete coverage of Russia's war-torn Republic of Chechnya.