RFE/RL: With the information now at your disposal, can you confirm that Shamil Basayev has been killed?
Akhmed Zakayev: No. Of course, I can neither confirm nor deny this information because I only know what was released today by the Russian mass media, including [Federal Security Service head Nikolai] Patrushev's report to [Russian President Vladimir] Putin. I do not have any other information confirming this from the Chechen Republic. Therefore, I can neither confirm nor deny this information.
RFE/RL: Putin and [pro-Kremlin Chechen administration head Alu] Alkhanov stated today that with the death Basayev a new stage in the regulation of the conflict in Chechnya, that he was such an odious figure and now a lot of problems have been settled. How will Basayev's death influence the armed struggle of the Chechen resistance? What changes will there be?
Zakayev: Any changes, if there are any changes, will only be in terms of personalities. Essentially, the situation has not changed. Our conflict, our armed conflict, has centuries-long history. But Russian propaganda, specifically military propaganda, always tried to personify these problems, although the very nature of this conflict is far from individual personalities.
The Chechen people are the ones who upholding the idea of Chechen independence, of Chechen statehood. Or rather, the core of these ideas is the Chechen people, while at different times different leaders become the bearers of them. Today, nothing has changed. The same sort of back and forth that the situation has changed was heard when [Chechen President] Djhokar Dudaev was killed [in 1996], when [Chechen President Aslan] Maskhadov was killed [in 2005]. And we are already seeing this again now.
However, the roots of all this come from the times of [the 18th-century Chechen independence fighter] Sheik Mansur. The generals and military figures of that era also tied this problem directly to individual personalities and tried, by eliminating the leaders of the national-liberation movement to resolve political questions. But this is absolutely impossible because these people are not the core of the resistance, that core is the Chechen nation. And I am absolutely certain that the situation cannot be changed by the death of one, two, three or ten people. This war has already resulted in the deaths of 250,000 people, but the conflict continues today and will continue until in forces in Russia appear with the political will to resolve this conflict by political means. Only with the achievement of mutually acceptable, agreed-upon decisions can we speak of long-term and stable peace between Russia and Chechnya.
MORE: For coverage of this topic from RFE/RL's Russian Service in Russian, click here and here.
The Chechnya Conflict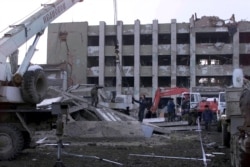 The aftermath of a December 2002 Chechen resistance attack on the main government building in Grozny (epa)


CHRONOLOGY
The
fighting in Chechnya
has raged, with short breaks, since 1994. It has brought misery, death, and destruction to the North Caucasus republic and to Russia as a whole. View an
annotated timeline
of the conflict.

ARCHIVE
RFE/RL's complete coverage of Russia's war-torn Republic of Chechnya.