Patrushev told Russian President Vladimir Putin that Russian special forces killed the Chechen rebel commander in Ingushetia this morning.
"Shamil Basayev and several bandits, who have planned and carried out terrorist acts in Ingushetia, have been eliminated," Patrushev said in Moscow this morning.
'Deserved Retribution'
Putin said the death of Basayev was "deserved retribution" for his command of the terror attacks on a Beslan school in 2004 and the mass hostage taking at Budyonnovsk in 1995. Pro-Kremlin Chechen President Alu Alkhanov has said that Basayev's killing practically concludes the counterterrorism operation in Chechnya.
Patrushev said Basayev was preparing an attack in southern Russia to coincide with the Group of Eight summit in St. Petersburg on July 15-17.
Ingush officials say Basayev was killed near a truck that blew up while separatist fighters were loading it with explosives in the Ingushetian village of Ekazhevo.
The pro-Chechen resistance website Kavkaz-Tsentr reported that Basayev and three other men were killed in "an accidental explosion."
Basayev's death is the most devastating blow yet struck by the Russian security services against the Chechen resistance. He had come to personify the rebel cause, and his death deprives the rebels of their most radical spokesman and their most talismanic leader.
To many Chechens, he had seemed almost invincible, eluding capture and taunting the Russian government since the start of the first Chechen war in 1994.
To Russians though he had become the most hated face of terrorism -- the man who claimed responsibility for the Beslan school hostage siege, which left 320 people dead, the vast majority of them children.
Fight Against Terrorism Continues
Putin, however, noted that the fight against terrorism continues despite Basayev's death.
"You and I know very well that the terrorist threat is still very high and we should under no circumstances weaken our operations in this area but, on the contrary, intensify them and improve the effectiveness of all actions that we take in this area," he told Patrushev today.
Basayev made no apologies for Beslan, or for Budyonnovsk in 1995, when 150 fighters under his command drove deep into southern Russia and took thousands hostage in the local hospital. He then negotiated the safe passage of his men back to Chechnya, a humiliation the Kremlin never forgave him.
Basayev also claimed responsibility for the seizing of a Moscow theater in 2002, in which 129 people died.
A Life Of War And Terror
It was what he called bringing the war to the Russian people. What he and his men were doing, he said, was in no way worse than what the Russian armed forces had done to his people in the course of the last decade. Eleven members of his own family were killed when Russian planes bombed his home village of Vedeno in 1995.
When Basayev was born in January 1965, his parents gave him the name of the famous mullah and warrior, Imam Shamil, who led the Muslim tribes of the northern Caucasus against Russian rule for the best part of three decades in the mid-19th century.
Ironically, Basayev began his own guerilla career fighting alongside Russian volunteers in Abkhazia's war for independence from Georgia.
But when Russian forces moved into Chechnya in 1994, Basayev quickly gained a reputation as the best and most daring of the rebel commanders. His popularity reached its apogee in 1996, when he and Chechen commander Aslan Maskhadov forced the Russians out of the Chechen capital, Grozny.
Radicalized During The War
Before the war in Chechnya, Basayev showed little interest in Islam but he appeared to undergo a personal transformation during the fighting, becoming a radical Muslim closely allied to the Wahhabi groups that began to move into Chechnya in the mid-1990s.
Ultimately, though, Basayev was driven by a desire to drive the Russians not just out of Chechnya but out of the rest of the northern Caucasus as well -- a desire that was in no way lessened by the loss of his leg after stepping on a land mine in February 2000.
When Russian security forces killed rebel leader Abdul-Khalim Sadulayev last month, they boasted that they had left the rebel forces headless. While Basayev was still alive that was an empty boast. But now his death at Russian hands leaves the Chechen rebel movement in its deepest crisis since the conflict began.
MORE: For coverage of this topic from RFE/RL's Russian Service in Russian, click here and here.
Shamil Basayev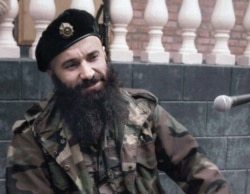 Shamil Basayev in September 1999 (epa)

MASTERMIND OF BUDYONNOVSK, BESLAN: Radical Chechen field commander Shamil Basayev waged a 15-year campaign against Russian control of Chechnya, including masterminding some of the most audacious terrorist acts the world has ever seen. Below are links to some of RFE/RL's reporting about Basayev in recent years.
RELATED ARTICLES
The Rise Of Russia's 'Terrorist No. 1'
Is Basayev Planning To Torpedo The Russian-Chechen Power-Sharing Treaty?
Basayev Rejoins Chechen Rebel Government
Basayev Says He Helped Plan Nalchik Raid
Basayev Says Beslan Raid Prompted By FSB Sting
Moscow Says It Will Punish U.S. TV Network Over Basayev Interview
Budyonnovsk Marks 10th Anniversary Of Terrorist Raid
Look Back In Anger -- Ten Years Of War In Chechnya
CHRONOLOGY
An
annotated timeline
of the conflict.

ARCHIVE
RFE/RL's complete coverage of Russia's war-torn Republic of Chechnya.